WEDDING ANNOUNCEMENT
Paquin-Plante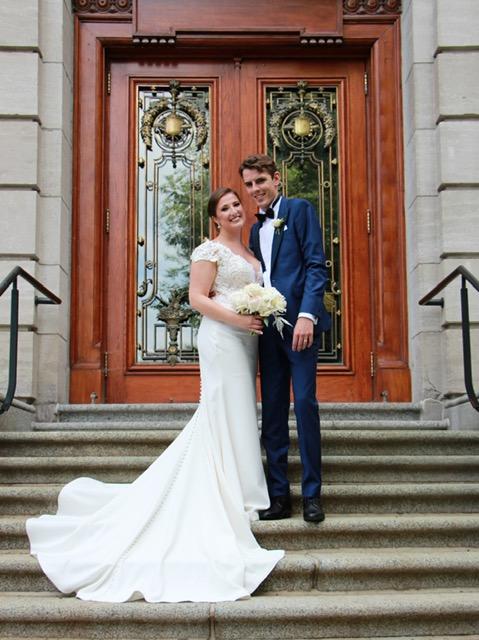 St. Patrick's Church, Quebec City was the setting for the July 16, 2022 wedding of Hélène Florence Paquin and Patrick Plante. Father Denis Paquin, OMI, cousin of the bride, officiated at the bilingual ceremony.
The bride is the daughter of Marie Coyea and Raynald Paquin of Saint-Augustin-de-Desmaures, and the groom is the son of Nancy Custeau and Richard Plante of Lévis. Christopher Coyea, cousin of the bride, and Alex Fleuriau-Château sang in duet, and were accompanied by Eric Vachon on the organ and the Lunes string quartet.
Friends of the bride and groom participated in the celebration. Readers were Myriam Paquin, maid of honour and sister of the bride, and Jeff Plante, best man and brother of the groom. The bridesmaids included Claudia Fortier, Claudia Trout and Marilou Gascon. The groomsmen included François Bégin, Thomas Bolland and Alexis Drouin. Many beautiful photos (including the photo above) were taken by Mylène Barbeau. A champagne reception, dinner and dance were held at the Château Frontenac.
Following a honeymoon to Portugal, Hélène and Patrick have taken up residence in Saint-Augustin-de-Desmaures.
WEDDING ANNOUNCEMENT: Paquin-Plante
was last modified:
July 26th, 2022
by