OBITUARY: Donald FORBES (1948-2023)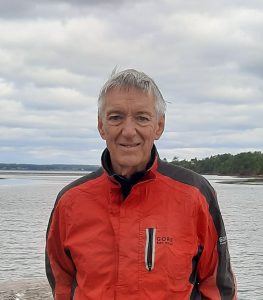 It is with great sadness that we announce the passing of Don Forbes, who left us March 27, 2023 surrounded by his fam- ily and friends at Hôpital Laval (IUCPQ).
Don was a loving husband, father, grandfather and friend. He will be remembered for his desire to help others, his capacity to live his life fully and his work ethic. Don was able to fix everything that was broken, was passionate about history and cycled thousands of kilometres every summer.
He leaves behind his wife of 50 years, Claudette Bégin, his children David and Catherine (Daniel Piaget) and his grandchildren Colin Forbes and Ariane and Émilie Piaget. His friends and extended family will miss him greatly for his generosity of spirit and willingness to lend a hand whenever needed.
A special thanks for the care he received in the emergency and the intensive care unit at the IUCPQ.
A celebration of his life will be held Sunday, April 30 at Coopérative funéraire des Deux Rives – Centre funéraire du Plateau, 693 Ave. Nérée-Tremblay, Québec, PQ, G1N 4R8.
In lieu of flowers, donations can be made to: Fondation de l'Institut universitaire de Cardiologie et de pneumologie de Québec, 2700 chemin des Quatre-Bourgeois, Québec, PQ, G1V 4G5; info@fondation-iucpq.org; fondation-iucpq.org) and/or Amnesty International (amnesty.ca/ways-to-give).
OBITUARY: Donald FORBES (1948-2023)
was last modified:
April 18th, 2023
by