QCGN denounces CAQ's 'kneecapping' tuition fee hikes
Peter Black, Local Journalism Initiative reporter
peterblack@qctonline.com
Quebec's three English-language universities are scrambling to deal with the impact on registration and financing provoked by the Coalition Avenir Québec (CAQ) government's abrupt hike in tuition fees for out-of-province and international students.
Pascale Déry, minister for higher education, and Jean- François Roberge, minister responsible for the French language, announced the fee increases on Oct. 13. The changes, effective for next fall and exempting current students, would raise fees for out-of-province students to around $17,000 from the current $9,000. International students would pay $20,000.
Déry justified the action by saying, "We are taking a strong action that is part of our government's vision for the future of French. Quebecers will no longer pay for the training of English-speaking Canadian students, most of whom return to their province after graduation, a reality that costs taxpayers more than $100 million per year."
In media reports following the announcement, Premier François Legault said the tuition hikes "are not against anglophones. They are to protect the French language. When I look at the number of anglophone students in Quebec, it threatens the survival of French."
The move sparked a storm of reaction, from the universities affected as well as in the business community and the political sphere.
The university most affected would be Bishop's, in the Sherbrooke borough of Lennoxville. Of the student population of 2,600, 30 per cent come from Canada outside Quebec and 15 per cent from outside the country. The newly appointed principal of Bishop's, Sébastien Lebel-Grenier, has said the tuition change poses an "existential threat" to the university. Legault ruled out any exemption for Bishop's.
Jill Robinson, a Bishop's graduate and former president of the Quebec City branch of the alumni association, said, "It seems the CAQ has been gradually targeting our English educational institutions – first with the fight with our school boards, then CEGEPS with Bill 96 and now our universities with the tuition fee hike for out-of-province and international students. It does not look good for our universities."
Robinson, who also served as educational co-ordinator for the Central Québec School Board, asked,"What happened to consultation and problem- solving with educational partners if they are so concerned about the health of the French language? Very closed-minded thinkers rather than broad- minded, creative thinkers."
At McGill University, 20 per cent of students come from other provinces and 30 per cent from outside the country. At Concordia, the split is nine per cent Canadian outside Quebec and 22 per cent international.
The tuition hike also applies to French-language universities, which welcome a growing number of international students but a small fraction of Canadian students from outside the province. Déry has said there may be special measures for Canadian students from other provinces who choose to study at French-language universities.
The Quebec Community Groups Network (QCGN), which represents some 40 English-language organizations in the province, reacted angrily to the tuition increase and called on Finance Minister Éric Girard, the minister responsible for relations with the English-speaking community, to intervene.
In an Oct. 18 release titled "Coalition Avenir Québec's outrageous tuition policy hurts all Quebecers," QCGN director general Sylvia Martin-Laforge asked how Girard "can stand by in silence while his cabinet colleagues deny English rights and access to services, penalize English institutions like universities and CEGEPs, and publicly denigrate the very sound, the very presence of English in a cosmopolitan, world-class city?
"We ask Minister Girard to tell us what he intends to do on behalf of the community of Quebecers for which he has ministerial responsibility. Kneecapping English universities in Quebec, which include some of the best in the world, will only work against attracting the talent, energy, brains and perspectives Quebec needs to build and grow in an increasingly globalized economy."
Girard, himself a McGill graduate, made a speech recently bemoaning the fact McGill had fallen behind the University of Toronto in its global ranking.
As of press time, Girard had given no official reaction to the tuition issue.
Although Quebec residents aren't directly affected by the tuition hike, Martin-Laforge said the tuition policy may also hurt young Quebec anglophones who may no longer feel welcome in the province.
She added, "While the CAQ's measures in general, including the hurtful Bill 96, may be aimed at the Montreal region, they also bring collateral damage to the nearly 250,000 English-speaking Quebecers who live outside the metropolis. We all pay a heavy price for the CAQ's obsession with hearing 'Bonjour/Hi' in downtown Montreal."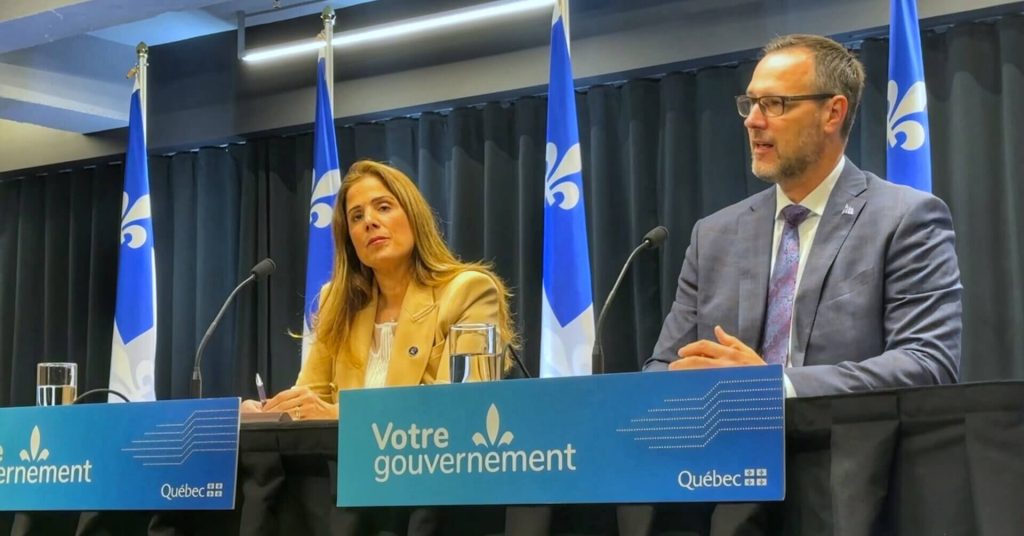 QCGN denounces CAQ's 'kneecapping' tuition fee hikes
was last modified:
October 24th, 2023
by