Stuart WALKER (1933-2022)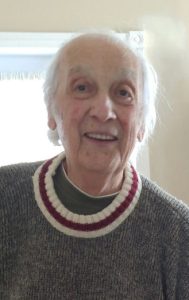 Stuart Walker, son of the late Margaret Dionne and the late Georges Walker, passed away at the Hôtel-Dieu de Québec Hospital on March 19, 2022, at the age of 88. He lived in the Sillery borough of Quebec City.
The religious service will be celebrated on Saturday, April 9, 2022, at 11 a.m. at Église Saint-Charles-Garnier, 1215, rue du Chanoine-Morel (Sillery) Quebec City. The family will receive condolences at the church, one hour before the ceremony.
Mr. Walker is survived by his wife Murielle Follin; his daughter Helena (Guillaume Bois); his grandchildren Lily and Felix; his brother Loyal Gallichon; his brothers-in-law and sisters-in-law Lucie Ruel (late Denis Lebel), Jean-Marc Lebel and Pierre Lebel (Nathalie Morency) and his nephews Gérard Walker, Gary Nickard (Patty Wallace), Robert Sommerville and Danny Walker as well as his niece Norma Sommerville (Marc Guimont).
He is predeceased by his brothers and sisters Herbert Walker, Viola Nickard, Joyce Sommerville, Bruce Walker, Vernon Walker and Sylvia Clark.
The family would like to thank the CLSC palliative care staff as well as that of the Hôtel-Dieu de Québec Hospital for the good care provided.
Your expressions of sympathy may be conveyed by a donation to the Fondation du CHU de Québec (HDQ), 10, rue de l'Espinay, Québec (Qc) G1L 3L5, (418) 525-4385.
For information: ATHOS
Telephone: 418 529-3371 Fax: 418 767-2309 Email: info@lepinecloutier.com

For sending personalized messages and / or flowers as well as to sign the register in memory of the deceased person: lepinecloutier.com
OBITUARY: Stuart WALKER (1933-2022)
was last modified:
March 29th, 2022
by