OBITUARY: Joan BEATTIE (1937-2023)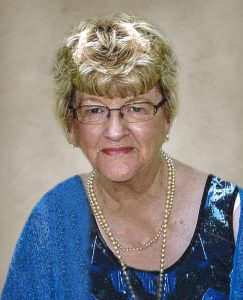 Joan Beattie, the wife of Ronald Routhier, passed away at the Thetford Mines Hospital on Jan. 26, 2023 at the age of 85. She was born in Saint-Pierre-de-Broughton and resided in Thetford Mines.
She is survived by her husband Ronald Routhier, her daughter Claudia (André Deschâtelets) and her grandson François Routhier (Camille Goulette).
She was the daughter of the late Thomas Beattie and the late Mildred McKee, and the sister-in-law of the late Léonard (late Lorraine Thivierge) the late Robert (Suzanne Foy), the late Louise (late Jacques Girard), Gilles (Françoise Lessard), Clément (Diane de Belleville), the late Gaétan (Colette Vachon), the late Roger (Louise Blais, wife in second marriage of Yves Provost), the late Martin, Jean-Guy (Lina Roy), Christine (Richard Lacroix) and Mario (Josée Audet).
She is also survived by her nephews and nieces as well as other relatives and many friends. The family will receive condolences on Friday, Feb. 10 from 2 to 4 p.m. and from 7 to 9 p.m., as well as Saturday, Feb. 11, the day of the funeral, starting at 9 a.m. at the Centre funéraire Gamache & Nadeau Ltée, 590 rue Saint-Alphonse Sud, Thetford Mines.
The religious service in honour of Joan Beattie Routhier will be celebrated on Saturday, Feb. 11 at 11:30 a.m. at the church of Saint-Pierre-de-Broughton.
The family wishes to sincerely thank the staff of the Thetford Mines Hospital for the care provided.
Your sympathy to the family may be expressed through a donation to the Fondation de l'hôpital de la région de Thetford (fondationhopitalregionthetford.ca) or to the Alzheimer Society Chaudière-Appalaches (alzheimerchap.qc.ca).
OBITUARY: Joan BEATTIE (1937-2023)
was last modified:
January 31st, 2023
by