OBITUARY: Annie Margaret (Craig) Kibblewhite
(September 15, 1929 – December 6, 2022)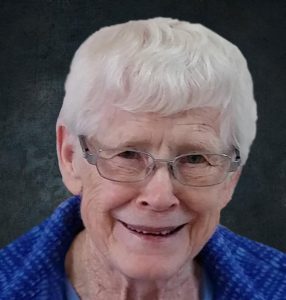 Annie was the daughter of the late George and Irene (Stephenson) Craig. Born in Quebec City, she was raised on a farm in Stoneham, north of the city, with four siblings, and surrounded by uncles, aunts and cousins. Predeceased by her husband, Bob; and her three brothers and their wives, William and Peggy Craig, Alfred and Shirley Craig, and John and Shirley Craig, Annie is survived by her sister Jean Howard (Bruce) of Guelph, Ont.; Louise Knox (late Gerry) of Stoneham, Que.; daughters Elaine Ladd (Ian) of Kingston, Ont., Kathy Kibblewhite of Calgary, Barb Williams (Geoff) of Calgary, and Gail Korchinski (Rob) of Calgary; and by grandchildren Liz Ladd (Joe McLaughlin) of Montreal, Jane Ladd (Cedric Pepelea) of Kingston, Laurel Williams (James MacKenzie) of Calgary, Connor Williams of Calgary, Daniel Korchinski (Raelyn Sullivan) of Vancouver and Jennifer Korchinski of Calgary.
Annie's family wishes to thank the exceptional staff in every department at AgeCare Glenmore, especially the staff of Woodbine Unit, the Recreation Team, the Reception Desk Team and the Physical Therapy Team.
Annie's remains have been entrusted to Evan J. Strong Funeral Services, and will be laid to rest beside her late husband, Bob, at the cemetery of St. Peter's Church in Stoneham, Quebec. Services are to be arranged in the New Year. Photos, memories and condolences may be shared with Annie's family, and donations may be made, through evanjstrong.com.
OBITUARY: Annie Margaret (Craig) KIBBLEWHITE (1929-2022)
was last modified:
December 13th, 2022
by