Nature Conservancy BioBlitz helps Canadians discover biodiversity
Press release
From July 29 to Aug. 2, the Nature Conservancy of Canada (NCC) is holding a nationwide virtual event encouraging people to observe nature and learn more about habitats and species in their backyards, neighbourhoods and wherever they find nature. The Big Backyard BioBlitz is part of the non-profit organization's mandate to connect Canadians with nature. By registering for the event at natureconservancy.ca/2021bioblitz and then going out into nature to take photos, people can make a meaningful contribution to conservation and our understanding of wild species and natural habitats.
Citizen science is just what it sounds like: community members like you contributing to science. Data collected from backyards and greenspaces across the country can help build our knowledge about wildlife and even inform conservation actions. "Anyone can participate. It's a great way for people of all ages to look at nature more closely and learn about the plant and animal species close to home," said Dan Kraus, senior conservation biologist at the national office of the Nature Conservancy of Canada. "Spending time outdoors is also beneficial for our physical and mental wellbeing. This is a great way to connect with nature and fellow nature lovers, while contributing to our collective knowledge of Canada's wildlife."
Here's how it works: People can register anytime during the BioBlitz week at natureconservancy.ca/2021bioblitz. They will then receive access to a participant package with instructions on how to submit their photos, as well as activity sheets for kids, fact sheets and resources to learn more about species identification. They can then head outside and observe plants, animals and insects, snap photos and upload the images on the application. Photos will be reviewed by a global network of scientists.
Last year our Big Backyard BioBlitz resulted in over 20,000 observations, including almost 2,000 in Quebec with 581 observed species. Help us gather even more information this year. Who knows what you'll discover?
The Nature Conservancy of Canada (NCC) is the nation's leading not-for-profit, private land conservation organization, working to protect our most important natural areas and the species they sustain. Since 1962, NCC and its partners have helped to protect 14 million hectares (35 million acres) from coast to coast to coast, including 48,000 hectares (close to 119,000 acres) in Quebec. To learn more, visit natureconservancy.ca.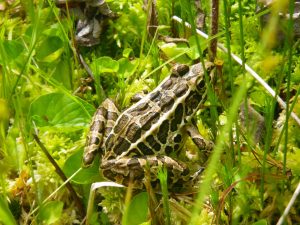 Nature Conservancy BioBlitz helps Canadians discover biodiversity
was last modified:
July 27th, 2021
by