WEDDING ANNOUNCEMENT:
Paquin-Gallant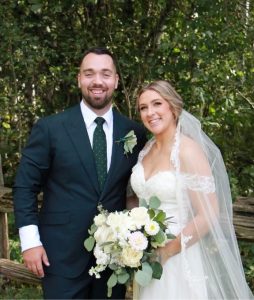 La Transfiguration du Seigneur – Saint Augustin Church in Saint-Augustin-de-Desmaures was the setting for the Sept. 17, 2022, wedding of Myriam Paquin and Alexandre Gallant. Father Denis Paquin, OMI, cousin of the bride, officiated at the bilingual ceremony. The bride is the daughter of Marie Coyea and Raynald Paquin of Saint-Augustin-de-Desmaures, and the groom is the son of Marielle Gagnon of Saint-Pamphile and André Gallant of Quebec City.
Christopher Coyea, cousin of the bride, and Alex Fleuriau Chateau sang in duet, and were accompanied by Eric Vachon on the organ, violinists Pierre Bégin and France Marcotte and cellist Emmanuel Bégin.
Friends and family of the bride and groom participated in the celebration. Dr. Paul Fortin, cousin of the bride and godfather, and his wife Christine Wickham were assistants. Readers were Hélène Florence Paquin, matron of honour and sister of the bride, and Pier-Antoine Tremblay-Gagnon, cousin of the groom. The bridesmaids included Alisson Morneau, Cindy Ouellet, Gaëlle Paquet and Christine Bergeron. The groomsmen included Alexandre Lachance (best man), Félix Huot, Maxim Émond, Kristopher Audet and Jeff Hamel. Many beautiful photos (including the photo above) were taken by Mylène Barbeau.
A champagne reception, dinner and dance were held at the Salle des Promotions of the Séminaire de Québec.
Following a honeymoon to Chicago, Myriam and Alexandre have taken residence in Saint-Augustin-de-Desmaures.
WEDDING ANNOUNCEMENT: Paquin-Gallant
was last modified:
September 27th, 2022
by