GRADUATION 2023: St. Patrick's High School honours the Class of 2023
Cassandra Kerwin
cassandra@qctonline.com
Clad in green gowns and mortarboard caps, the St. Patrick's High School Class of 2023 entered the Palais Montcalm on June 22. Friends, family, faculty and guests were on hand to celebrate their achievements.
The ceremony commenced with the graduates filing into the Salle Raoul-Jobin to the tune of "Pomp and Circumstance." As per tradition, salutatorian Michelle Rodriguez St-Germain gave the opening speech. "Five years ago, on Aug. 29, 2018, we all started our high school years in our best outfits – skinny jeans and a Champion sweatshirt, that is – afraid to take on the world of high school," she said. "Today, June 22, 2023, we finally have all these answers, and we find ourselves with the same questions, this time about a different future.
"The time has passed so fast that you could almost say all the clocks in the world were stolen from us," she continued. "This cohort provided us with a sense of belonging, unity and community, even when we come from all different backgrounds, interests and views on life. It taught us the importance of differences in society. We are ready to say goodbye to high school, but not to the St. Pat's community. Congratulations, Class of 2023 – we did it!"
After the salutatorian's speech, newly appointed principal Julien Duchamp and Central Québec School Board chairperson Stephen Burke spoke. Then it was time for the presentation of 45 awards, bursaries and scholarships. (A full list of graduates and award winners is below this article.)
Valedictorian Coralie Cardinal closed the ceremony. "When I was told that I would be this year's valedictorian, I was more than happy to have the privilege to represent the Class of 2023. Earning this title has been a part of my bucket list for years, and today, I can finally cross it off – although writing this speech has proven to be a lot more challenging than I thought," she said. "In just a few weeks, many of us will be off to CEGEP, trade school, a gap year or doing what inspires us. Our cohort did not always have it easy, especially with COVID-19. It taught us to be prepared for the unknown and to expect the unexpected."
With those words, the St. Patrick's High School Class of 2023 threw their mortarboard caps into the air and left the hall to the sound of Coldplay's "Viva La Vida."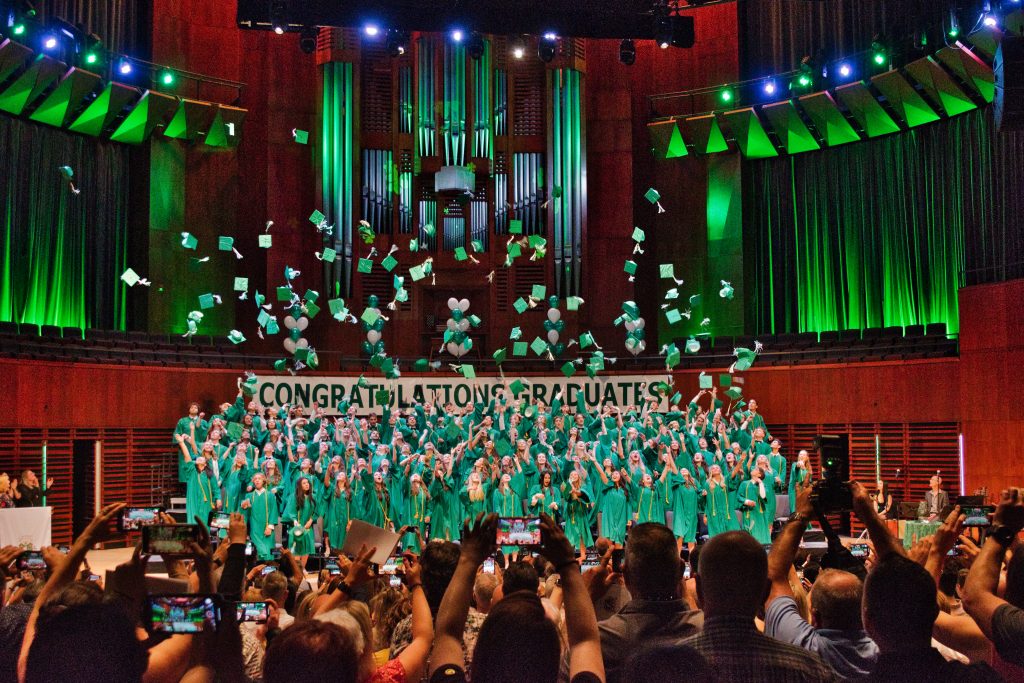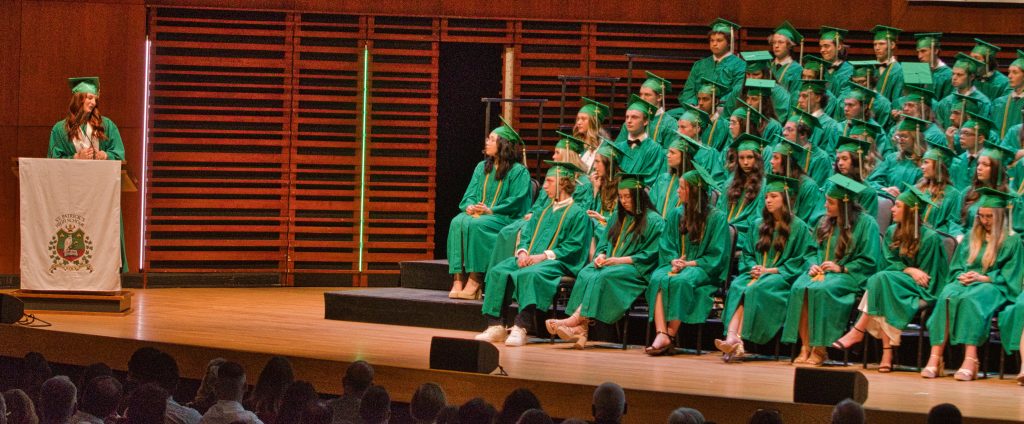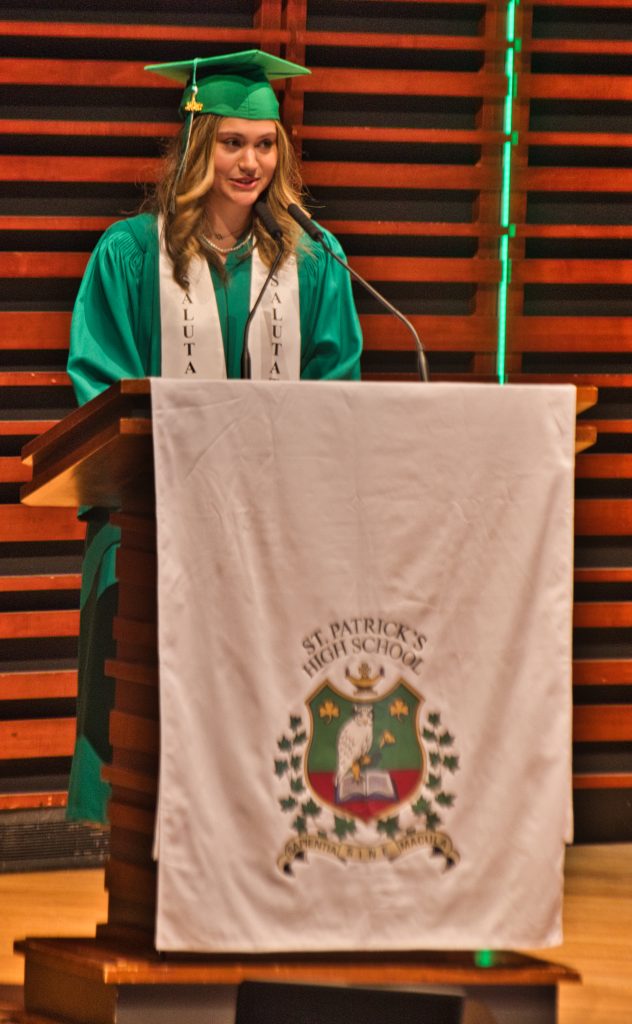 Congratulations to the Graduates and award winners!
Hana Adra (S.M. Manek Award; St. Patrick's High School Staff Award; School Letter; Student Life Award)
Muhammad Hamza Ali
Jérôme Amiot
Jacob Arsenault
Kimberly Baller-Lafrenière 
Olivier Beaudoin
Stella Beaulieu (Governing Board Award; School Letter)
Louis-Charles Bédard
Lola Pearl Bélanger ( Governing Board Award; St. Patrick's High School Staff Award; School Letter; Masonic Foundation of Quebec Award on behalf of St. John's Lodge No. 3)
Laurence Bernatchez (St. Patrick's Parish Award; School Letter)
Eddy Bilodeau 
Derek Blaney
Wesley Blouin (St. Patrick's High School Staff Award; Masonic Foundation of Quebec Award on behalf of St. John's Lodge No. 3)
Nikolas Boily-Lenden
Océane Boivin
Juliet Bouchard 
Sébastien Bouchard 
Alexandre Boucher
Kélya Boucher
Cléo Camps
Coralie Cardinal (Valedictorian; Teresa F. Whealan Trophy; School Letter; Student Life Award; Brother George Scholarship)
Florence Caron
Jessica Caron
Jonathan Caron (Governing Board Award)
Rose Champoux (Principal's Award;  Governing Board Award; School Letter)
Shany-Lynn Châteauvert
Simon Cooper
Connor Cormier
Tyson Cormier
Tristan Côté (St. Patrick's High School Staff Award; Masonic Foundation of Quebec Award on behalf of St. John's Lodge No. 3)
Enzo Cuglietta (Patrick McKenna Trophy)
Logann Cusson ( Governing Board Award)
Naiomi Daoust (Principal's Award)
Maxim Dauphinais (Bruce Phillips Award; St. Patrick's High School Alumni Award)
Laura Deblois (Ray Barry Memorial Award; Rosalind Franklin Award)
Raphaël Denis
Ann-Sophie Dion
Léa-Rose Drolet
William Dubé (Eastern Quebec Learning Centre Scholarship)
Simon Fiset (St. Patrick's High School Staff Award)
Alyson Fontaine (Governing Board Award; St. Patrick's High School Staff Award; School Letter; School Letter; William J. McNamara Award)
Justin Gagné
Samuel Gagné ( Eastern Quebec Learning Centre Scholarship)
Émile Gagnon
Jade Gagnon (St. Lawrence Regional College Bursary)
Sophie Gagnon (St. Patrick's Parish Award; St. Patrick's Catholic Women's League Award)
Shawn Gallant (St. Patrick's High School Staff Award; Bruce Phillips Memorial Bursary)
Joshua Gallese
Nathan Gignac
Ryan Giguère (CQSB Parents Committee Award)
Skyler Giguère (St. Patrick's High School Positive Impact Award; Student Life Award)
Derek Gilbert
Edouard Gourdeau
Emilie Grant
Evan Grégoire
Bianca Hamel (Kennedy-Girardeau Award; David E. Blinco Award)
Clara Huber (Citadel Foundation High School Volunteer Award; School Letter; Student Life Award; Rosalind Franklin Award)
Annalise Humar-Normand (St. Patrick's High School Staff Award; Fleming Motto Award)
Victor Huot
Leksi Jerasi
Gabriel Jimenez Quiroga (Michael Yaremko Trophy; St. Patrick's High School Staff Award; Marianna O'Gallagher Award)
Jeremy Jodoin (Ron Corriveau Award)
James Kerr-Dupuis
Zyonne Koontz
Justin Lavallée ( Eastern Quebec Learning Centre Scholarship)
Thomas Lavoie
Loïc Lavoie-Giard
Kim Lebel
Lukas Leclerc-Ghesquière
Wyatt Leclerc-Ghesquière
Ely Lemay (St. Patrick's Parish Award)
Andrew Lemieux-Béchard
Pierre Letarte
Dawson Letellier
Taïna Lightfoot
Brittany Low
Myriam Mailloux
Charles-Antoine Marcotte ( Father Bill Steacy Trophy; School Letter)
Andy Marcoux
Maverick Marin
Emma Marquis
Bryan Martel ( Eastern Quebec Learning Centre Scholarship)
Trinity Martel (Leonard School Alumnae Award; Principal's Award; School Letter)
Kendra Mathieu (St. Patrick's High School Staff Award)
Laura McCoubrey ( Father Bill Steacy Trophy; School Letter; Student Life Award; Fred Cote Leadership Scholarship)
Neil McEniry Lepage
Allison McEwen (St. Patrick's Parish Award;  Governing Board Award)
Amy Michaud ( Eastern Quebec Learning Centre Scholarship)
Daniel Milot
Rose Monna-Williams ( St. Patrick's Parish Award;  Governing Board Award)
Justin Moreau
Anthony Mouland
James Mouland ( Eastern Quebec Learning Centre Scholarship)
Shane Mountain (Neil Rourke Perseverance Award;  Irish Heritage Quebec Bursary)
Sarah Murphy ( Governing Board Award; St. Patrick's High School Alumni Award; Student Life Award)
Gabriel Naud
Elyanna Parent 
Ella Partridge 
Jonathan Pelletier (Brother Walter Trophy; Brother George Trophy)
Jeremy Perron
Malik Pinel-Tard
Maeva Primeau
Emy-Rose Quessy ( St. Patrick's Parish Award; School Letter)
Zoe Racine
Maiya Regis
Jeremy Rhéaume ( Irish Heritage Quebec Bursary)
Krystopher Richard
Samy Roberge
Michelle Rodriguez St-Germain (Salutatorian; Lieutenant Governor's Medal; Walter Munroe Trophy & Award; Robert Brochu Trophy; School Letter)
Justin Rondeau 
Alexis Routhier
Rosalie Salesse (William J. McNamara Award; Bill Mylett Bursary)
Sylvia Samson (Leonard School Alumnae Award;  Mondrian Art Award)
Danica Sanschagrin
Megan Sheridan-Vallières (St. Patrick's High School Staff Award)
Élaura Simard
Emma Simard
Alex St-Germain ( St. Patrick's Parish Award)
Stella St-Hilaire ( Governing Board Award)
Kelly Ann Thibault
Élizabeth Topping (St. Patrick's High School Staff Award)
Amélie Trépanier (School Letter; St. Lawrence Regional College Bursary)
Wilson Trudel
Thomas Verret (Desmond O'Neill Award;  Sister Mildred Wallace Trophy; School Letter)
Julien Vigneault
Xavier Dubois (Governor General's Award –  Class of 2022)