St. Patrick's High School honours graduates
Shirley Nadeau
shirley@qctonline.com
The following message was posted on the St. Patrick's High School Facebook page in honour of the class of 2021: "From all the SPHS Staff, Governing Board, Alumni and Irish Community, we would like to congratulate you for everything you have accomplished this year and throughout all your years at St. Pat's. Graduation is a unique experience, a moment to celebrate your hard work and your achievements. You deserve to be celebrated. We are proud of you. Take time to remember your firsts and lasts, and to thank your friends, your teachers and your family. Take time to look forward and trust in yourselves. Wishing you all the best. Congratulations."
Award winners are listed below, along with a complete list of graduates provided by the school:
Olivier Boulay: Valedictorian Trophy, Sister Mildred Wallace Trophy, Brother George Trophy, Walter Munro Trophy & Award, Brother Walter Trophy
– Julianna Letellier: Salutatorian Trophy, Teresa F.  Whealan Trophy, Robert Brochu Trophy, Fleming Motto Award, Rosalind Franklin Award
– Gabrielle Simard: Governor General's Academic Medal (class of 2020)
– Antonio Diaz: Michael Yaremko Trophy, Father Bill Steacy Trophy
– Emilie Drolet: Father Bill Steacy Trophy, Irish Heritage Quebec Award
– Megan Brown: Citadel Foundation High School Volunteer Award
– Anthony Breton: Desmond O'Neill Award
– Jessica White: S.M. Manek Award
– Nathan S. Laviolette: Phil Delaney Memorial Music Award
– Zoe Bowles: Leonard School Alumnae Award, Ray Barry Memorial Award
– Rowan Bernier: CQSC Parents Committee Award
– Elisabeth Huot: Central Québec Administrators Award
– Philip Richard: William J. McNamara Award, St. Patrick's Parish Award
– Natalya Poulin: Rosalind Franklin Award
– Jade Marier-Bonhomme: St. Patrick's Parish Award
– Jacob Nantel and Elodie Rodrigue: Principal's Award
– Rita Ineza Nganyira: Bruce Phillips Memorial Bursary
Note: Where more than two students have received the same award or scholarship, the award is listed first, then the names.
– Governing Board Award: Louis Marie de Montfort Nganyira, Noémie Cloutier, Kelly Comeau, Jacob Nantel, Victoria Fleury Wright, Anne-Sophie Cloutier
– St. Patrick's High School Staff Award: Roxanne Letourneau, Jake Surette, Julianna Letellier, Jade Marier-Bonhomme, Rita Ineza Nganyira, Louis Marie de Montfort Nganyira, Elodie Rodrigue, Megan Brown, Emma Cantin, Cassandra Lemieux, Gabriel Beauregard, Sean Rhéaume, Madisson Cusson, Sharlie Rondeau, MarcAntoine Thibault, Laurie Côté Fortin, Maxim Salvas, Romy Laflamme, Laurie Anne Vaillancourt, Jen-Hsun Poon
– School Letter: Olivier Boulay, Julianna Letellier, Nicolas Shone
– Masonic Foundation of Quebec Award (on behalf of St. John's Lodge No. 3): Louis Marie de Montfort Nganyira, Stacy Morissette, Kayla Bisson
– Student Council Award: Nathaniel Caron, Megan Brown, Antonio Diaz, Emma Lavoie, Rowan Bernier
– Eastern Québec Learning Centre Scholarships: Vivianne Dubuc, Marie Eve Beaulieu, Vincent Labine, Liam Walker, Sean Rhéaume, Joey Baril, Xavier Fortin, Jacob Proulx, Samuel BallerLafrenière, Sarah Naud, Matis Langlois, Emile Genois, Maxime Salvas, Charles Rossignol, Alyssia Courchesne, Stacy Morissette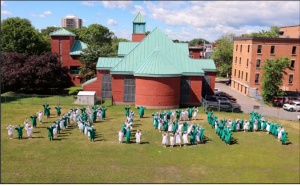 The Class of 2021: 
Group 51
Baller-Lafrenière, Samuel
Beauregard, Gabriel
Boivin, Magalie
Cantin, Emma
Cloutier, Noémie
Comeau, Kelly
Côté, William
Delaney Beaupré, Matthew
Diaz, Antonio
Fortin, Xavier
Genois, Émile
Grenier, Philippe
Harvey, Cédric
Jenkins, Derek
Laflamme, Jérémie
Langlois, Matis
Larouche, Andy
Lavoie, Emma
Longchamps, Thomas
Marcotte, Joey
Merner, Daven
Naud, Sarah
Ouellet, Andrew
Parent, Wylliam
Proulx, Jacob
Quirion, Catherine
Rochon, Marie-Laurence
Salvas, Maxim
Salvatore, Vincenzo
Smith, Jeremy
Westgate, Jordan
Group 52
Blais, Jessica
Breton, Anthony
Brown, Mégan
Caron, Nathaniel
Charest, Mathieu
Cloutier, Anne-Sophie
Cusson, Madisson
Dennie, Thomas
Fleury-Wright, Victoria
Handfield, Liam
Kilganon-Roy, Philip
Laflamme, Romy
Larochelle, Mia
Lavallée, Bianca
Laviolette, Nathan S.
Lavoie, Isaac
Lemieux, Cassandra
Letellier, Julianna
Létourneau, Roxanne
Marier-Bonhomme, Jade
Michaud, Philippe
Murphy, Thomas
Nadeau, Koraly
Nantel, Jacob
Poulin, Natalya
Rivard, Julianne
Rodrigue, Élodie
Tardif, Maxime
Thibault, Marc-Antoine
Vaillancourt, Laurie-Ann
Veilleux, Noémie
Wilcox, Julia
Group 53
Bédard, Samuel
Godbout Cech, Joachim
Labine, Vincent
Lafontaine Ospina, Catalina
Penney, Lorie-Ann
Rhéaume, Sean
Surette, Jake
Tremblay, Laurence
Tuppert, Maxim
Walker, Félix
Walker, Liam
Group 54
Aubry, Jade
Beaulieu, Marie-Ève
Bernier, Rowan
Bisson, Connor
Blache, Zachary
Bouchard, Justin
Boulay, Olivier
Bowles, Amy
Bowles, Zoé
Brouillette, Sophie
Cardinal, Maya
Carrier, Shawn
Chartier, Lauriann
Côté Fortin, Laurie
Dion, Jean-Gabriel
Drolet, Emilie
Duchesneau, Luca
Gauthier, Mathis
Hainse, Elisabeth
Huot, Elisabeth
Marquis, Brandon
Nadeau, Charles-Xavier
Nganyira, Ineza Rita
Nganyira Rugwiro, Louis Marie de Montfort
Perreault, William
Poon, Jen-Hsun
Richard, Philip
Rondeau, Sharlie
Séguin, Tristan
White, Jessica
Group 55
Avery, Rosemary
Baril, Joey
Courchesne, Alyssia
Dubuc, Vivianne
Ginchereau, Mya
Giroux, Samuel
Grant, Samuel
Hasbun, Merick
Hunter, Jazlyn
Morissette, Stacy
Rossignol, Charles
Temela, Leo Matthew
Group 56
Nicholas, Shone