Stuart Chapman WRIGHT (1927-2021)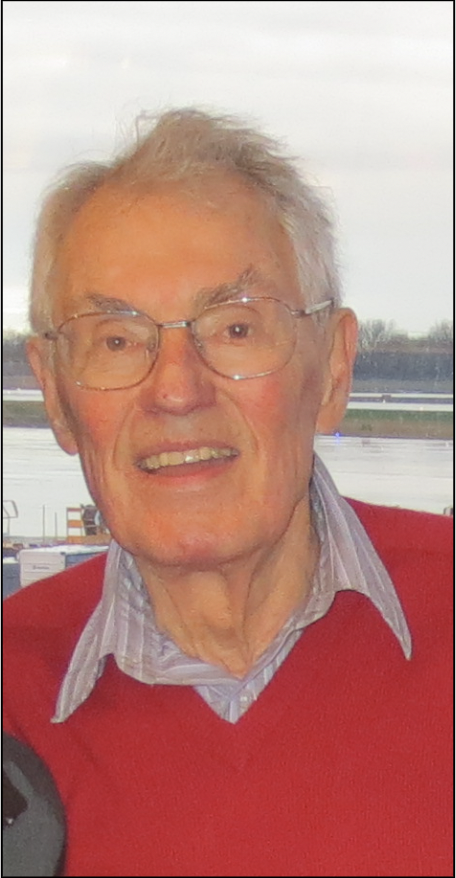 It is with profound sadness that the family announces the passing of Stuart Chapman Wright on October 18, 2021, at 95 years of age of natural causes, in his beloved lifelong home of Quebec City.
Stuart was the cherished husband of Mary Ellen Bacon Reisner ("Meb") and the late Joan Agnes Margaret Clarke Wright ("Joann"). He was the devoted and loving father of Bradley (the late Susan Bodley) of Ottawa, and Sheryl (Malcolm Mercer) of Toronto; grandfather of Brennan (Sarah Toupin), Heather (Nicholas Waddell) of Ottawa and Emily (Mathieu Wallace) of Revelstoke, B.C. and Catherine ("Cat") Mercer and Caroline Mercer of Toronto; and great-grandfather of Charlotte, Lillian and Evelyn of Ottawa.
Stuart was the third of four sons of the late Herbert Wright and Muriel Ramsey Wright of Quebec City. He was predeceased by his brothers Howard and Leslie, brothers-in-law Aubrey Clarke and Harold Corbett, sisters-in-law Joyce Wright, Aggie Wright, Rosamond Corbett, Mickie Clarke and Diane Clarke, and niece Kathy Corbett.
Stuart will be sadly missed by his brother Arnold and sister-in-law Mary of Calgary; his brother-in-law Justice Roderick Clarke of Thunder Bay, Ont.; his nieces and nephews: Wrights – Linda Wright Ropeleski, Sheila Neufeld, Brian, David, Ann and Caryl, Catherine, Melanie and Peggy; Corbetts – Roderick, Richard, Donald and Deborah; Clarkes – Keltie Dawn, Fraser and Wilson; cousins Pauline Joyal, Norah Ramsey, Andrew Caddell, Sheila Morgan, Jennifer Jackson and many others; George Keightley and family, and countless friends and colleagues. The support and love received directly or through the ether from all who loved Stuart was a great source of comfort to him and his family.
Stuart's family feels blessed beyond description to have known him. He was uncommonly wise, thoughtful, kind, considerate, dignified, open-hearted, even-tempered, good-natured, loving, loyal, humble, trusting and talented; a perfect role model, though he would have demurred at the suggestion. He never bragged even though he could have backed up anything he chose to say.
Stuart loved Quebec City and its people. As a university student, he worked as a tourist guide to show off the city to all comers. A top student, he graduated from McGill University and then from Université Laval law school before embarking on a career as a bilingual notary that lasted so long – 65 years – that the Chambre des Notaires gave him a plaque. He was proud to have had a will he had drafted upheld and praised in the Supreme Court of Canada. He was an excellent athlete who downhill skied until he was 87. At 65, he wiped a 40-year-old off the tennis court, but did it with such grace that the loser felt like a winner in life.
During his last few weeks, Stuart resided at Saint Brigid's Home, where highlights of his life were posted on the wall in his room. Under the heading "What I Don't Like" were written "Being tickled," but also, and more revealingly, "Disappointing anyone." No one we know of was ever disappointed by Stuart (we don't know how many tickled him).
Stuart belonged to the Garrison Club and Chalmers-Wesley United Church, where he spent countless contented hours. In his younger days, he belonged to the YMCA and helped ready Camp Naskapi for the summer seasons. He was a driving force behind the brilliant Y's-A- Poppin' variety shows, serving as co-writer, producer, director and master of ceremonies and acting in the skits in front of the curtain during the scene changes. He treated the 2,000 people in the audience as though they were friends in his living room. He was not nervous doing so because, as he put it, "It's not about me." Stuart was not about himself. He was about his family, his friends, and his colleagues and clients at Côté Taschereau Samson Demers. We and they were the better for it.
The family wishes to thank the marvellous staff, nurses and doctors at the Jeffery Hale Day Centre, St. Sacrement Hospital and Saint Brigid's Home for the care and assistance they gave Stuart in his last years, months and days.
The funeral will take place at Chalmers-Wesley United Church, 78 Rue Sainte-Ursule, Quebec City, at 11 a.m., with visitation beginning at 10 a.m., on November 6, 2021, with interment at Mount Hermon Cemetery on Chemin Saint-Louis. Those wishing to attend the service via Zoom are asked to send an email to chalmers-wesley@qc.aira.com to obtain the link.
Please consider donations to the Citadel Foundation, 2000 – 1270 Chemin Sainte-Foy, Quebec, QC G1S 2M4 or to Chalmers-Wesley United Church, 78 rue Sainte-Ursule, Quebec, QC G1R 4E8.
OBITUARY: Stuart Chapman WRIGHT (1926-2021)
was last modified:
November 4th, 2021
by