Marie-Imelda GOSSELIN (1937-2021)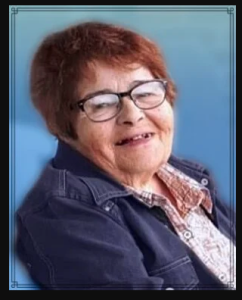 Marie-Imelda Gosselin passed away on November 24, 2021, at age 84, at the CHSLD de Baie-Saint-Paul. She was the former wife of Georges Christman and the daughter of the late Zéphirin Gosselin and the late Rosanne Lévesque. She lived in Quebec City.
She is survived by her children: Lucy Christman (Alain Claveau), Marie-Lynn Christman (André Rourke), Eric Christman (Brigitte Beaumont), Stéphane Larocque; her grandchildren: Sarah Christman (Joseph Poirier), Roseanne Christman (Paul Leblanc), Laurie Dubuc, Lisa Dubuc, Océane Larocque, Mégane Larocque, Nathan Larocque; her great-grandsons: Liam Poirier and Léo Leblanc; her brothers and sisters: Anita Gosselin (the late Émile Collin), the late Cécile Gosselin (the late Gaétan Grondin), Sister Lucie Gosselin R.J.M., Gabriel Gosselin (Louise Beaudet), the late Bernard Gosselin (the late Louise Doyon and Rita Villeneuve); her former husband Georges Christman (Céline Marcoux); her brothers- and sisters-in-law: the late Eric Christman (the late Myriel Paquette), the late Pierre Christman (the late Joan Marshall), Elizabeth Christman (the late Pierre Poulin), the late Gertrude Christman, Connie Christman and the late Elaine Christman. She is also survived by several nephews, nieces, cousins, other relatives and friends.
The family will welcome relatives and friends at the Maison Gomin, 2026 Boulevard René- Lévesque Ouest, Quebec City, on Sunday, December 12 from 9 a.m. to 11 a.m. A Liturgy of the Word will follow at 11 a.m. in the chapel.
According to the public health measures in force, a rotation of 50 people at a time will be allowed during condolences; however, a greater number of people may be admitted to the complex. Wearing a mask will be compulsory and distance must be respected.
For those not be able to be present, the family invites you to join them virtually, live or recorded, and to attend the liturgy, by clicking the "CAPTATION DES RITUELS" icon on the online death notice at lepinecloutier.com.
The family would like to warmly thank the staff of the CHSLD Baie-Saint-Paul, the CHSLD Romain-Becquet, the Villa Micheline and the CLSC in Fortierville for their excellent and compassionate care.
You may express your sympathy with a donation to Opération Enfant Soleil or to the Jeffery Hale – Saint Brigid's Friends' Foundation, 1250 Chemin Sainte-Foy, bureau 439, Québec (Qc), G1S 2M6, for musical activities.
For information: ATHOS
Telephone: 418-682-5225
Email: infowh@lepinecloutier.com
OBITUARY: Marie-Imelda GOSSELIN (1937-2021)
was last modified:
November 30th, 2021
by