Malcolm Charles EVANS (1932-2021)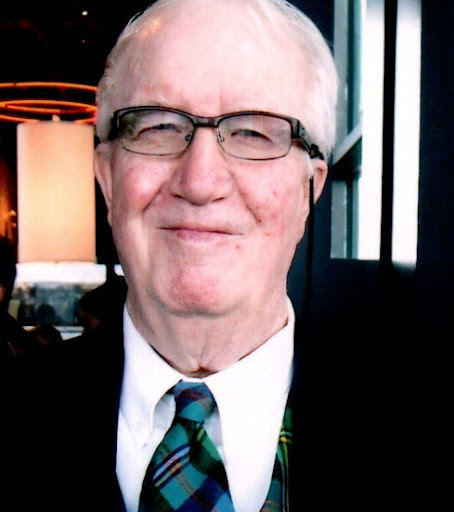 Archdeacon Malcolm Charles Evans died peacefully at Saint Brigid's Home on Nov. 7, 2021, at the age of 88. He was predeceased by his parents Kenneth and Marjorie (Mowat) Evans, his wife Ursula Brain (2005), infant daughter Moragh (1963) and sister Kitty Cocks (2019). He is survived by his second wife and devoted caregiver Beulah Smith-Evans, his children Jonathan (Jackie), Melissa (Jay) and Kenneth, his grandchildren Liam and Julia, and his siblings Gwynneth, David and Ross Evans.
Malcolm was born in Norwich, England, in 1932. In September 1933 he arrived with his parents in Toronto where his father taught at Trinity College. In 1944 the family moved to Montreal, where his father was dean of Christ Church Cathedral. Malcolm attended Selwyn House School and later Bishop's College School in Lennoxville, Que. He graduated from Queen's University in 1958 and attended Westcott House, Cambridge, England, from 1959 to 1961. He was ordained by his father, the Bishop of Ontario, and the Bishop of Niagara in 1962.
Malcolm's ministry began in the Diocese of Niagara. In 1962 he married Ursula Brain; four children were born. In October 1972, he became rector of Grace Church on-the-Hill, Toronto. During his tenure, the 100th anniversary of Grace Church was celebrated with a variety of events and programs. In 1981, Malcolm took a sabbatical year with the National Defence College Canada, stationed in Kingston. From 1981 to 1985 he was chaplain and teacher at Bishop's College School in Lennoxville. Between 1985 and 1998, he served as rector of St. Christopher's Church, Burlington, and St. Andrew's Church, Grimsby.
In retirement, Malcolm served in 2005 as an honorary assistant at St. James Church, Port-Daniel, and St. Paul's Church, Shigawake (Baie des Chaleurs) in the Gaspé, where he established the "Malcolm Evans Fund" for the purpose of supporting area residents facing financial hardship. In 2006 he was interim priest at Trinity Church, Sainte-Foy, where he also met Beulah Smith, whom he married in 2007. In 2008 he was interim priest at the Cathedral of the Holy Trinity, Quebec City.
One of Malcolm's greatest joys in life was spending summers with family in his beloved Metis. He arrived for the first time in 1947 with his parents and siblings, and virtually every summer thereafter was celebrated at the golf club, on the beach or on a salmon river with dear friends and Ursula, and since 2007 with Beulah.
The family wishes to extend their sincere appreciation to the doctors and nurses and all the staff at Saint Brigid's Home for their loving care and assistance for Malcolm.
A funeral service will be held at the Cathedral of the Holy Trinity, Quebec City, on Saturday, Dec. 4 at 11 a.m.
In lieu of flowers, donations in memory of Malcolm may be made to the Anglican Diocese of Quebec in support of the Bishop's Discretionary Fund (31 Rue des Jardins, Quebec City, QC, G1R 4L6), or the Saint Brigid's Home Foundation (2000 – 1270 Chemin Sainte-Foy, Quebec City, QC, G1S 2M4).
OBITUARY: Malcolm Charles EVANS (1932-2021)
was last modified:
November 16th, 2021
by