OBITUARY: Lélia Joan (née Donohue) BOUSQUET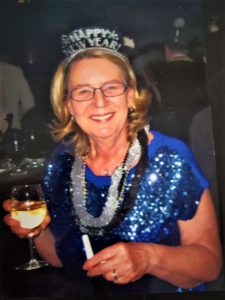 Lélia Bousquet (née Donohue), born in Quebec City on July 14, 1945, passed away peacefully on March 21, 2023, at home surrounded by her family after a lengthy illness.
Lélia studied at Ottawa University, where she met the love of her life, Arthur Bousquet. They lived in Quebec City; Lancaster, California; Valcartier Village and finally Ottawa, where they opened an antique shop and continued raising their family.
Lélia, daughter of George T. Donohue and Aline Garneau, is survived by her loving husband of 52 years, Arthur Bousquet, and their five children, Antoine (Wanda), Stephanie (Barry), Elizabeth (Will), George (Celine) and Mary (Greg), ten grandchildren and one great-grandchild.
Lélia was a loving wife and mother, a passionate gardener who enjoyed travelling and a very active church member.
The family would like to especially thank the wonderful caregivers who worked tirelessly to care for her and made her comfortable throughout her illness. The family will not forget your kindness.
The funeral will take place Monday, April 3, 2023 at 9:30 a.m. at Saint-Jean-Baptiste Parish, 96 Empress Ave, Ottawa followed by a memorial gathering at Hulse, Playfair & McGarry – Central Chapel, 315 McLeod Street, Ottawa from 11.a.m. to 3 p.m.
In place of flowers, donations to the Alzheimer Society of Ottawa and Renfrew County would be appreciated.
Condolences/Tributes/Donations
Hulse, Playfair & McGarry
hpmcgarry.ca
613-233-1143
OBITUARY: Lélia Joan (née Donohue) BOUSQUET
was last modified:
April 4th, 2023
by