OBITUARY: Kathleen POWER (1926-2022)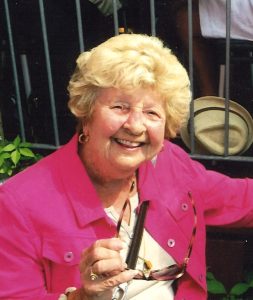 Kathleen Power died on Dec. 1, 2022 at Hôpital Chauveau (CSSS Québec-Nord) at the age of 96 years and four months. She was the daughter of the late Fleurette Veillette and the late John Power. She lived in Quebec City.
No funeral ceremony is planned, but her relatives and friends are invited to honour her in their own way if they choose. She is survived by her sister Maureen Power (late Yvan Beauchamp) and her nephews and nieces André Beauchamp (Marie-France Nolin), the late Johanne Beauchamp (Gilles Tremblay) and John, Mark and Richard Power, and many friends. She was predeceased by her brother Bertin Power (late Cécile Ruelland).
The family would like to thank the palliative care staff at Hôpital Chauveau for their kind and skilful care.
Your expressions of sympathy can be made through a donation to the Canadian Cancer Society for breast cancer research.
Further information:
Coopérative funéraire des Deux Rives
Phone: 418-688-2411 or 1-888-688-2411
Fax: 418-688-2414
To send a message of sympathy: coopfuneraire2rives.com
OBITUARY: Kathleen POWER (1926-2022)
was last modified:
January 10th, 2023
by