OBITUARY: Helen HABERLIN (born Martin) (1928-2023)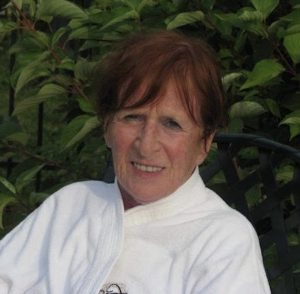 Mrs. Helen Haberlin (born Martin) , wife of the late Majella Haberlin, passed away at Saint-Sacrement Hospital on Aug. 8, 2023, at the dawn of her 95th birthday. She was the daughter of the late Mrs. Helen Madden and of the late Mr. Frank Martin. She lived in Quebec City.
The family will receive condolences at St. Patrick's Church, 1145 Avenue De Sal- aberry, Quebec City, G1R 2V7 on Saturday, Aug. 26, as of 10 a.m. The funeral mass will follow at 12, thence to St. Patrick's Cemetery for burial.
She is survived by her sons: Gregory (Lucie Roy), James (Helen McCauley) and
John (Sabrina Morales); her grandchildren: Sara (Adam Wall), Vincent (Valérie Jetté), Gregory, Anne Elizabeth (Ryan Smart), Jacob and Emily-Jade; her great-grandson, Liam; her sister-in-law, Anne-Marie Bélanger (late Dominic Haberlin); as well as her many nephews, nieces, cousins, other relatives and good friends.
She joins her loving sisters: Cecilia (Raymond Desmeules), Muriel (Jacques Bruneau), Frances (Austin Edwards), Joan (Pierre Guay) and Mary.
Heartfelt thanks go out to all the dedicated health-care staff of the Coronary Care Unit on the fourth floor at Saint-Sacrement Hospital for their kindness and exceptional care.
Donations in her honour may be made to La Fondation du CHU de Québec, 1825 Boul. Henri-Bourassa, bureau 405, Québec, QC, G1J 0H4, 418-525-4385 or fondationduchudequebec.org.
For information contact ATHOS
Telephone: 418-529-3371
Fax: 418-767-2309
Email: info@lepinecloutier.com
OBITUARY: Helen HABERLIN (born Martin)
was last modified:
August 22nd, 2023
by