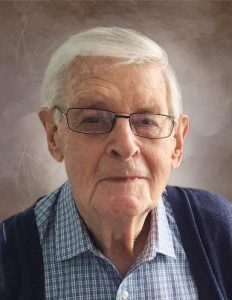 Brian CHEERS (1929-2021)
Brian Cheers passed away peacefully on August 11, 2021 at the Jeffery Hale Hospital, Quebec City, at the age of 92. He was the devoted husband of the late Florence Bignell and the beloved father of Pamela. He was the uncle of Gail Quinn (Kevin) of Quebec City as well as several other nieces and nephews in Canada, the United Kingdom and Australia. He was predeceased by his brothers Francis (the late Barbara) and Norman (the late Barbara) in England as well as his brothers-in-law Dudley Bignell (the late Ruth) and Evan Bignell (the late Elaine) and his sister-in-law Ruth Bignell Addie (the late Kenneth) in Canada.
A funeral service will be held on Saturday, September 18,
2021 at the Maison Gomin (Lépine-Cloutier), 2026 Boulevard René-Lévesque Ouest, Quebec City. The family will receive condolences from 12 p.m. until 2 p.m. A commemorative service will follow in the chapel at the funeral home. The current COVID restrictions must be respected.
Born in Manchester, England, Brian arrived in Canada in 1952 after finishing his studies at Cambridge University. He worked for the Department of National Defence at CARDE/ DREV in Valcartier, Quebec, as an aeronautical engineer for more than 35 years. He enjoyed travelling, gardening and reading but his favourite pastime was music and he was a member of l'Atelier de musique ancienne de Québec for many years.
Sincere thanks to the personnel of the Manoir Archer, the staff of the CLSC Sainte-Foy–Sillery who took care of Brian's various needs, the staff of the CHUL for looking after Brian during his numerous stays, and to the UTRF and palliative care team at the Jeffery Hale Hospital for their excellent care and compassion.
A special thank you to his niece Gail Quinn and her husband Kevin for their unwavering support as well as to the members of l'Atelier de musique ancienne de Québec for their friendship and to our neighbours who cared about Brian's well-being over the years. Donations in Brian's memory may be made to the Jeffery Hale – Saint Brigid's Friends' Foundation, 1270 Chemin Sainte-Foy, Suite 2000, Quebec, QC, G1S 2M4, amisdujhsb.ca/en/ donate/ or the CAMMAC Music Centre, 85 Chemin Cammac, Harrington, QC, J8G 2T2.
OBITUARY: Brian Cheers
was last modified:
September 21st, 2021
by