Barbara CORRIGAN (1928-2021)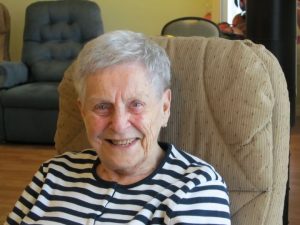 Barbara Corrigan died peacefully on Aug. 6 at Enfant-Jésus Hospital in Quebec City in her 92nd year. She was the daughter of Patrick and Beatrice Corrigan of Saint-Gabriel- de-Valcartier, wife of James (Jimmy) Corrigan, mother of Peter (Elizabeth) and loving grandmother of Conor and Calum. Barbara will be fondly remembered by many for her gentle heart and caring nature. She was an excellent cook and a gracious hostess, and her door was always open.
She took great pleasure in making others happy, including her
grandchildren, for whom she would always make cookies and
cinnamon buns. She loved a good game of cards at which
she was quite competitive. Barbara was an avid curler in her earlier years and watched "the curling" for many more. Her faith in God kept her strong to the very end.
Special thanks to Barbara Ann Phillips for her dedication and love for her Auntie Barbara. She was an important source of support. Special thanks also to Celyne Giroux-Martel and the staff at Villa Shamrock in Shannon, Quebec, for their care and attention.
Due to COVID, a private celebration of life will be held at a later date.
In lieu of flowers, please send donations to the Fondation CHU de Québec (fondationduchudequebec.ca).
OBITUARY: Barbara CORRIGAN
was last modified:
August 17th, 2021
by