Équipe Québec holding on to first place in the Frontier League
Luc Lang
luc@qctonline.com
Patrick Scalabrini, the manager of Équipe Québec, is pulling all the right strings; his travelling Quebecers, who still haven't played a home game this season, are holding onto first place in the Frontier League's Atlantic division.
The team finished the last week with a record of four wins and two losses after playing the Lake Erie Crushers and the New Jersey Jackals. In Avon, Ohio, Équipe Québec got off on the wrong foot against Lake Erie, losing the opening game 3-1 on June 22. The loss was the fourth in a row for the Fleurdelysée. However, the next day, June 23, veteran Gift Ngoepe hit his first home run of the season, with the bases loaded, and Équipe Québec scored five times in the first inning to cruise to a 5-0 victory over the Crushers. Finally, on June 24, as Quebecers back home celebrated Fête nationale, Équipe Québec scored three runs in the 10th inning and won their final game against the Crushers, 10-8. The team travelled to Little Falls, N. J., to face the Jackals for another three-game series. The first game on June 25 was an offensive battle; David Glaude and catcher Ruben Castro had three RBIs each to lead Équipe Québec to a 10-7 victory. It was the team's fourth win in a row. However, that winning streak ended on June 27, when the Jackals scored three runs in the first inning, two in the third, two in the sixth and three in the seventh to seal a 10-3 victory. As of June 28, after 29 games this season, Équipe Québec had a record of 15 wins and 14 losses. They hold a two-game lead over the New York Boulders, who have played two fewer games. Équipe Québec and the Boulders are currently playing a three-game series that began June 29.
The team will then go to Troy, N.Y., and face the Tri-City ValleyCats for the first time this season. The first game will be on July 2, and the team will leave Troy on July 4. After a day off on July 5, Équipe Québec will be back in Augusta, N.J., to face the Sussex County Miners. The Miners have won all three games against the Fleurdelysée so far this season.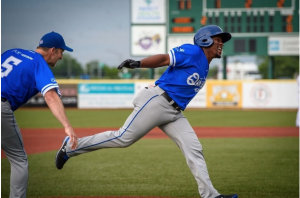 Équipe Québec holding on to first place in the Frontier League
was last modified:
June 30th, 2021
by