Submitted by Quebec Art Company
Quebec Art Company's spring production is coming up soon, and it will be a special treat for theatre-goers. The School for Scandal is a wickedly funny farce, first performed in London in 1777, that has delighted many an audience on stage and screen ever since.
The play opens on May 19 for a four-show run. Tickets for reserved seats ($20) can be purchased on the QAC website at quebecartcompany.com. QAC's venerable director Mark Lepître explained some of the devilish details of R.B. Sheridan's famous play.
Why did you choose this play?
I have a particular appreciation for a pithy remark or a telling epigram. While I am personally incapable of "Wildeing" away at the drop of a hat, I truly admire someone who can. Sheridan's characters made an art of it. Professionally, I enjoy the challenge of staging period pieces that feel modern in their ideas. Intentionally, I wanted an ensemble piece that would showcase the talent we have in the QAC. The School for Scandal ticked all the right boxes.
What kind of adaptations did you make and why?
Perhaps the most significant adaptation I've made is to the language itself. This is a "talky" play and I felt that the English that Sheridan uses, both syntax and vocabulary, was just foreign enough to modern ears that much would be lost. For example, Joseph Surface is referred to throughout the play as a man of sentiment; this is not to say he is sentimental, but that he affects certain attitudes with conviction. When his brother Charles spends the evening downing bumpers with Macaronis, I admit it took some time before I realized what he was actually doing. The other licence I've taken with the play was to change the gender of one of the characters and thus Sir Oliver became the Lady Olivia.
How relevant is the play today?
Relevant, why indeed? How many times has someone started a conversation with, "Have you heard the latest?" Let's be honest, who doesn't love a good old chinwag, the more salacious the better. And if scandal is involved, better and better. Pick up any newspaper, follow any Twitter feed or Facebook posting and scandals they abound. We gossip as we breathe, encouraging delectable and irresistible tidbits of rumour to fill our lives.
What about the costumes?
Costumes are transformative. As the old adage says, clothes make the man. Nothing could be truer in period pieces where actors are forced to don garments that are no longer worn. The ritual of putting on breeches, cravats, frock coats, corsets, stays, panniers, and wigs – not to mention dealing with all that lace – has a definite effect on one's body language.
The costumes for this play have all been meticulously crafted to reflect the period when the play first opened in 1777. They are anything but practical and reflect the insouciant idleness of these characters, who had nothing better to do than spend hours getting dressed for a short walk across the park for a good dish or two with the local quidnunc.* Oh, that reminds me …
*Archaic: an inquisitive and gossipy person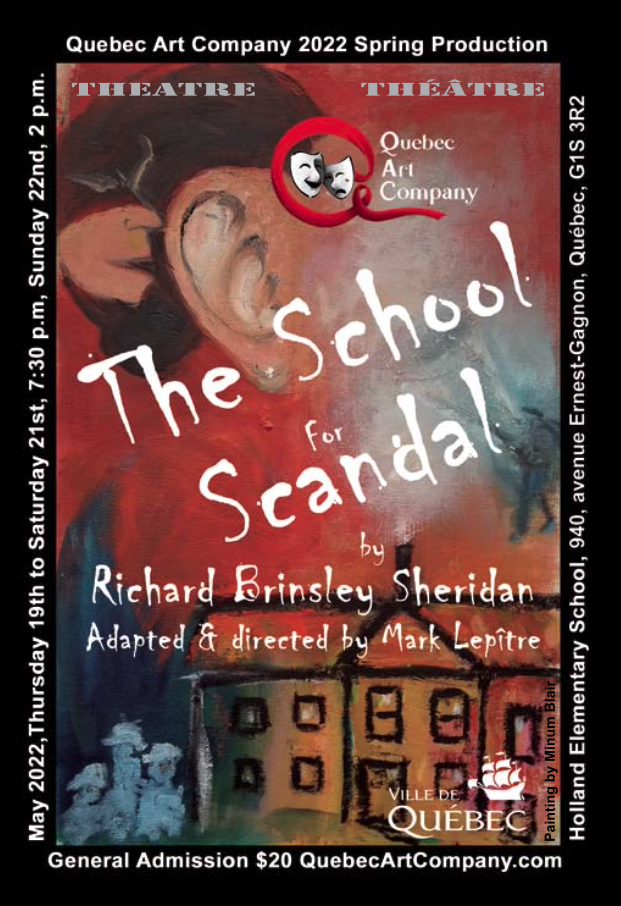 Director notes devilish details of The School for Scandal
was last modified:
May 3rd, 2022
by