Delivery Day countdown begins for the Community Christmas Hamper Campaign
Submitted by Shirley Nadeau, chair of the CCHC organizing committee
Boxes ordered – ✓
Food ordered – ✓
Volunteers recruited – ✓
These three vital elements of the 27th annual Community Christmas Hamper Campaign (CCHC) are well in hand. Members of the organizing committee have double-checked their lists to be sure they haven't missed anyone in need of some special loving care during this season of giving.
Volunteers will gather at the Eastern Québec Learning Centre on Dec. 14, 15 and 16 to assemble hundreds of boxes and fill them with dry goods, fresh fruit and vegetables, milk, eggs, bread and frozen meats that will be delivered by more volunteers to close to 200 households on Dec. 17.
Fundraising to purchase the food to fill the boxes is going very well, with over 60 per cent of our $50,000 goal attained as of Dec. 9. We extend a huge Thank You! to everyone who has donated thus far. The names of all donors will be recognized in a special ad that will appear in the Jan. 25 edition of the QCT.
If you have not yet contributed to this worthy cause to help less fortunate members of the English-speaking community enjoy a festive meal during the holidays, it's not too late! For information on how you can help, see the details on the ad on this page and visit the CCHC website at qchampers.ca to make a donation.
This year's campaign is dedicated to the memory of the late Bill Donnelly, who devoted many years of service to finding the perfect boxes for the annual Community Christmas Hamper Campaign.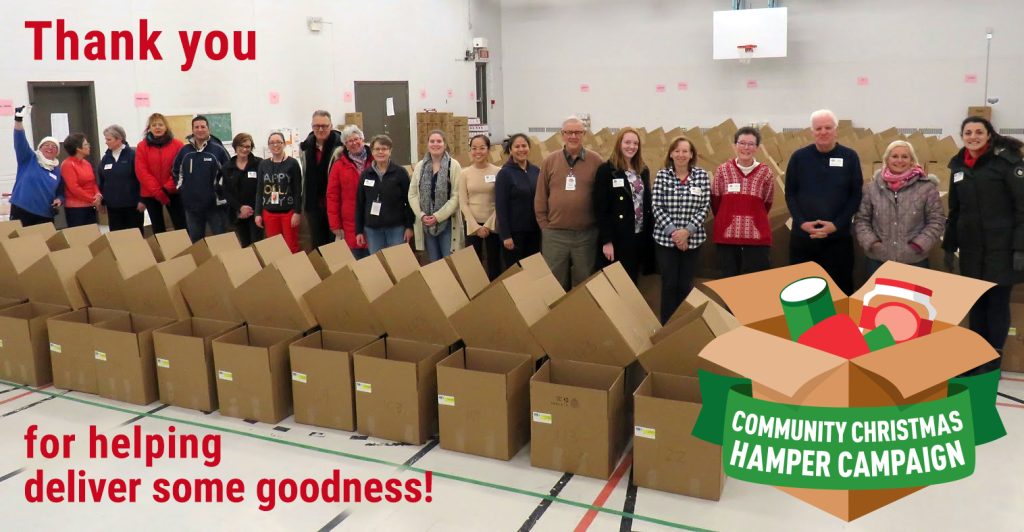 Delivery Day countdown begins for the Community Christmas Hamper Campaign
was last modified:
December 13th, 2022
by