COVID-19 worsens shortage of community transportation volunteers
Submitted by Diane Kameen, Communications Advisor, Jeffery Hale Community Partners and the Wellness Centre
Jessica Price, interim volunteer co-ordinator at the Wellness Centre, is worried. She is doing her best to respond to requests from at-risk older adults in the English-speaking community for a volunteer to drive them to medical appointments, but it is not easy because she has a very limited number of volunteers to call on. Also, the need for volunteer transportation is growing. "Requests for transportation have gone up by an astounding 280 per cent since last year. In fact, the number started to climb about three years ago, but we have less than five regular volunteers we can count on in our roster. Volunteer driving is one of our most essential services. I really don't want to let people down!"
Richard Walling, director of Jeffery Hale Community Partners, which co-manages the Wellness Centre, is not surprised. "COVID-19 surely had an impact on people's needs to get to medical appointments, probably because people feel nervous taking public transport. I also think, however, that it's due to a demographic shift. Our community is getting older. That means a greater need for volunteers, but in turn, they are fewer in number," he states. "Since we opened 30 years ago, transportation has been one of our biggest volunteer recruitment challenges. It is magnified by the fact that a lot of seniors in our community do not have any family in the region, so volunteers are one of our most precious assets. We simply cannot offer our support services without them. The good ones are like gold."
Transportation volunteer Jacqueline Corbett is one of the golden ones. "I started teleworking in March 2020 when COVID-19 hit. I also really wanted to find a way to help our community, but many volunteer opportunities were shut down at the same time, so I took to driving. It gave me a great excuse to get out of the house!" As a relative newcomer to Quebec, Corbett said it also helped her to discover new areas of Quebec City. "My drives up to Valcartier gave me a chance to appreciate the beauty of the changing seasons in our region. Driving has also helped me develop patience. In my day job, I am often rushing to meet deadlines – no time to waste. That approach does not work when you are on a medical appointment because waiting is part of the package. Everyone in the waiting room needs care of some kind and the medical staff are working hard to meet their needs."
Madeline Byrne-Stewart is a longtime client of the Jeffery Hale Community Services Day Centre and a beneficiary of volunteer transportation services. "Without the kindness of volunteers like Jacqueline, I would not be able to get to some of my appointments, and that would put my health at risk," she said. With mobility difficulties due to vision problems, no family living here, no car, and the high cost of taxi fare, Byrne-Stewart counts on the generosity of volunteers.
Take a four-minute survey before July 19
Price is working on strategies to entice people to sign up as transportation volunteers. She is trying to gain an insight into their motives through a general survey open to everyone in the community. "If you have even thought about helping with transportation but then never signed up, I would love to know what held you back," she said. Please take the Wellness Centre's four-minute confidential survey before Monday, July 19 by visiting wejh.ca/transportation. There is no pressure to commit! With life getting closer to normal this fall, Price fears that transport requests will spike yet again at that time. If you are willing to give back to your community by joining the transportation volunteer team, please reach out to her at jprice@jhpartners.net. You can also register directly online by visiting wejh.ca/transportation. You need a valid driver's licence and access to a vehicle. Your mileage is reimbursed, and clients cover any parking charges. "You make your own schedule. You can do one ride a week, or one ride a month. We are super flexible, and do our best to give you 48 hours' notice," Price said.
"The time spent in the waiting room allows me to get to know the person I am accompanying. Sometimes we chat, sometimes we just sit quietly," concluded volunteer driver Corbett. "Most of all, I love hearing stories from those who have lived here all their lives. The people, the sense of community, that is the best part of all."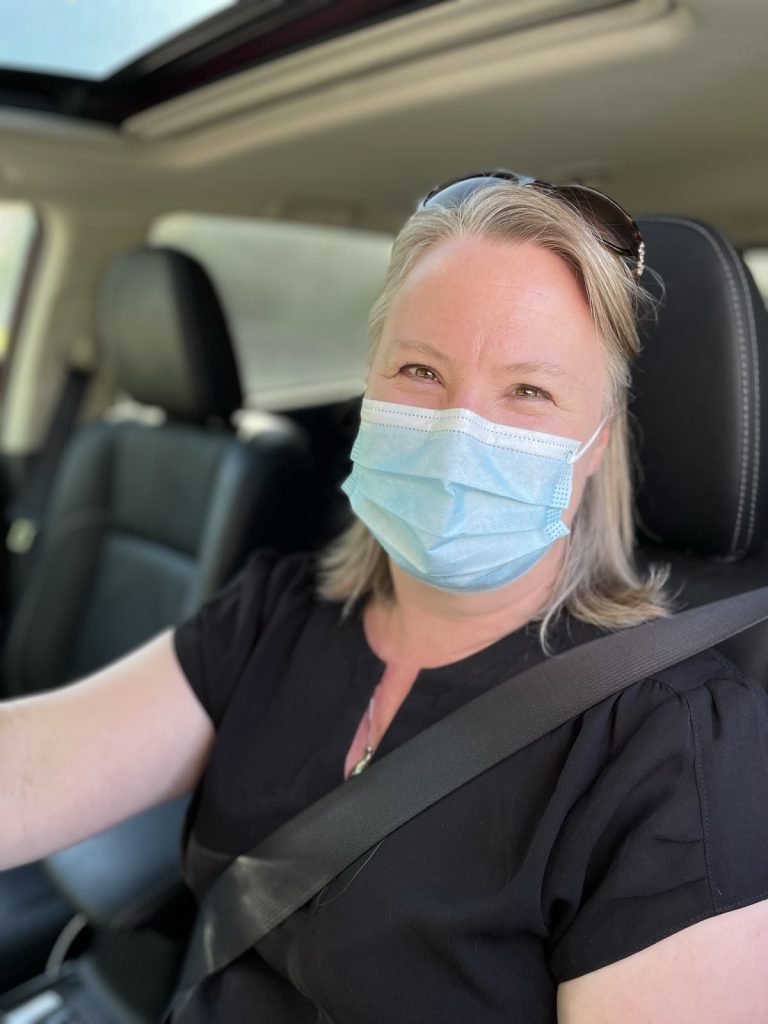 COVID-19 worsens shortage of community transportation volunteers
was last modified:
July 6th, 2021
by