Community Christmas Hamper Campaign wraps up another success
Submitted by Katherine Burgess, CCHC Committee Member
It was once again a real pleasure to work with the dedicated volunteers who give so much of their time to the Community Christmas Hamper Campaign. This year's campaign was a little bittersweet, as we missed one of our longest-serving members – Bill Donnelly (1939-2022). Committee members decided to dedicate this year's campaign to his memory, and I am sure that we all felt his presence, no matter what we were doing – meeting in person or via Zoom, making and packing boxes, delivering hampers and just being together. He was very much missed.
This year, we had approximately 130 volunteers as well as our regular drivers from Canada Post. Jeffery Hale and Voice of English-speaking Québec (VEQ) employees gave countless hours to make sure that everything ran smoothly, but this could not have happened without our many volunteers. We were delighted to welcome volunteers from Quebec Baptist Church, Club Rotaract de Québec, St. Vincent Elementary School PPO, CEGEP Champlain-St. Lawrence, RISE Program participants and educators and students from the Quebec High School Work-oriented Training Path (WOTP) and Challenges programs. We had volunteers of all ages, doing everything from making sure that recipients knew of the campaign, to packing the hampers to delivering them. The members of the organizing committee thank each and every one of you.
This year we helped over 200 households, which is impressive. It is also a little sad that in this day and age, so many people still need this help, but it is good to know that as long as there is a need, we will be here to meet it.
Ever since the COVID-19 pandemic began, we have not been able to do our regular food drive. This meant, of course, that we needed to raise funds to purchase all of our supplies. Citizens and corporations stepped up, however, and we surpassed our original goal of $50,000. Thank you to everyone who donated!
Some groups went above and beyond when it came to helping us out. The Eastern Québec Learning Centre (EQLC), in addition to holding a fundraising activity, generously allowed us the use of space in the gym as well as a couple of classrooms. Jeffery Hale Community Partners, Jeffery Hale Community Services and VEQ provided support in ways too numerous to mention. Special thanks also go out to our suppliers – Bo-Fruits, Construction Dinamo Inc., Emballages L.P. Aubut Inc., IGA Poulin and Nutri-Œuf: Ovale Eggs' South Shore branch.
We would particularly like to thank Everest Elementary School for food donations, Ste-Foy Elementary Cycle 3 students for handmade Christmas cards and Holland Elementary School for treat bags for each hamper.
Every year, there are specific fundraisers which really help us tremendously, and this year was no exception. Here is a list of fundraisers which both organizers and participants greatly enjoyed:
• Draw at the Holiday Run-Around & Fun event by the Wellness Centre
• Holiday Happy Hour by VEQ and the Morrin Centre
• "Howliday" cute pets photo contest and Merry Face-off staff dares challenge by VEQ
• Jeffery Hale Community Services staff auction and jar sales
• Pound for a Claus! Pound® Class event by Vivian Yatabe and friends
• Sales of Fun Jars Cookie Mix jars by the RISE Program
• Sales of gift boxes filled with local and regional products by EQLC
• Staff Jeans Day, and jewelry, soup jar and Christmas sales at Saint Brigid's Home, with items donated by Saint Brigid's Guild
And a huge thank you to you, the public, for your continued generosity in supporting this annual campaign. Without you, we could not have done it, and because of you, many people had a merrier Christmas.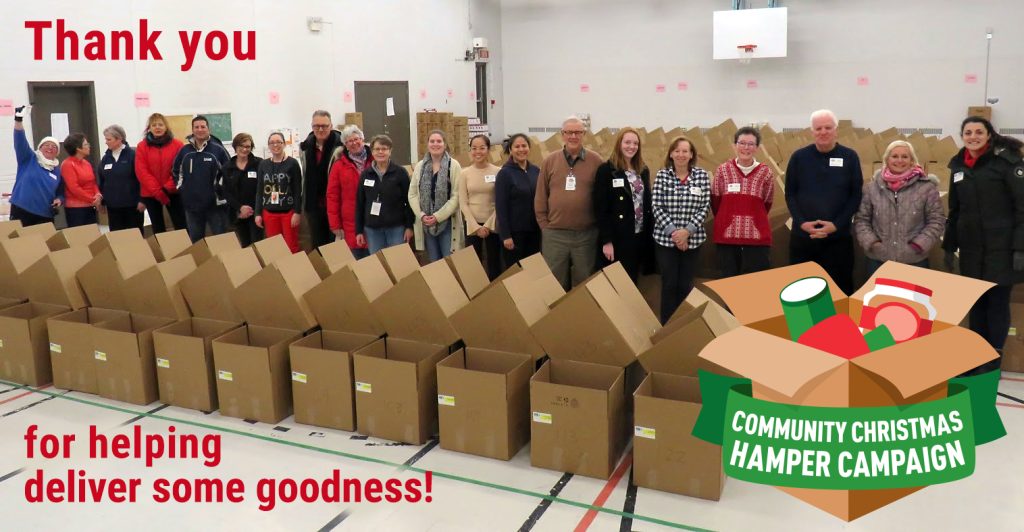 Community Christmas Hamper Campaign wraps up another success
was last modified:
January 24th, 2023
by