THANK YOU for helping the Community Christmas Hamper Campaign reach its goal!
Submitted by Rev. Katherine Burgess, CCHC Member
We have arrived at the successful conclusion of the 26th Community Christmas Hamper Campaign (CCHC). As was the case last year, due to COVID-19 restrictions, we did not collect food or non-perishable items, but depended on the generosity of donors which allowed us to purchase items for the hampers.
Thanks to the efforts of over 100 volunteers, we were able to help 211 individuals and families in need. In addition to the members of the steering committee who gave their time for meetings and organizing things, we wish to thank those volunteers who helped to pack the boxes and deliver them to recipients.
Thank you to the Eastern Québec Learning Centre, which not only provided the space for us to use on delivery day and the days leading up to it but also held a very popular fundraiser. People were able to purchase holiday gift baskets of local products which could be used or given as gifts.
Other great fundraising activities held during November and December included the following:
• The Voice of English-speaking Québec (VEQ) "Oh Deer! Holiday Dares" initiative.
• Christmas Family Fun Boxes by English-speaking parents in Québec City (EPIQ), the Wellness Centre and VEQ.
• Fun Jars of cookie mixes by the RISE Program.
• Staff Jeans Day and Fancy Coffees, Jewelry and Christmas Sales at Saint Brigid's Home, with items donated by Saint Brigid's Guild.
• Champlain–St. Lawrence Campus Student Association Dodgeball Tournament.
• Meditative Musical Healing Concert held at St. Andrew's Presbyterian Church.
We must mention the staff of Jeffery Hale Community Partners, without whom none of this could have happened. As in the past, the Citadel Foundation holds our funds and looks after our investments. We deeply appreciate their expertise. The Quebec Chronicle-Telegraph gave the Hamper Campaign lots of publicity, as they do every year, and we thank them sincerely.
We also extend our thanks to our corporate sponsors who have been supplying food and boxes for many years: Bo-Fruits, Emballages L. P. Aubut Inc, IGA Poulin and Nutri-Oeuf. Your generosity is much appreciated. Thank you also to Canada Post, whose employees help to deliver the hampers every year.
Each year, we receive feedback – both from volunteers and recipients. We hear comments such as, "I am really glad that my family and I were able to help out this year. It is a great way to give back to the community." A recipient wrote, "We have been struggling this year, and knowing that we were getting a hamper made our Christmas much more enjoyable because we didn't have to worry as much. Thank you!"
If you were a volunteer this year and you have not yet done so, we ask that you take a couple of minutes to fill in the volunteer survey on qchampers.ca so we can see what worked this year and what may need some tweaking in the future. While you're there, you are welcome to share a story about your volunteering experience.
As for the fundraising, even though we have reached our $50,000 goal, next Christmas is only 11 months away! If you would like to donate in anticipation of the 2022 campaign, you can do so online by visiting qchampers.ca, or by mailing a cheque made out to the Community Christmas Hamper Campaign, c/o Jeffery Hale Community Partners, 2000 – 1270 Chemin Sainte-Foy, Quebec, QC G1S 2M4.
Again, a huge THANK YOU to every single person who pitched in to help us in any and every way whatsoever! We look forward to working with you again next Christmas.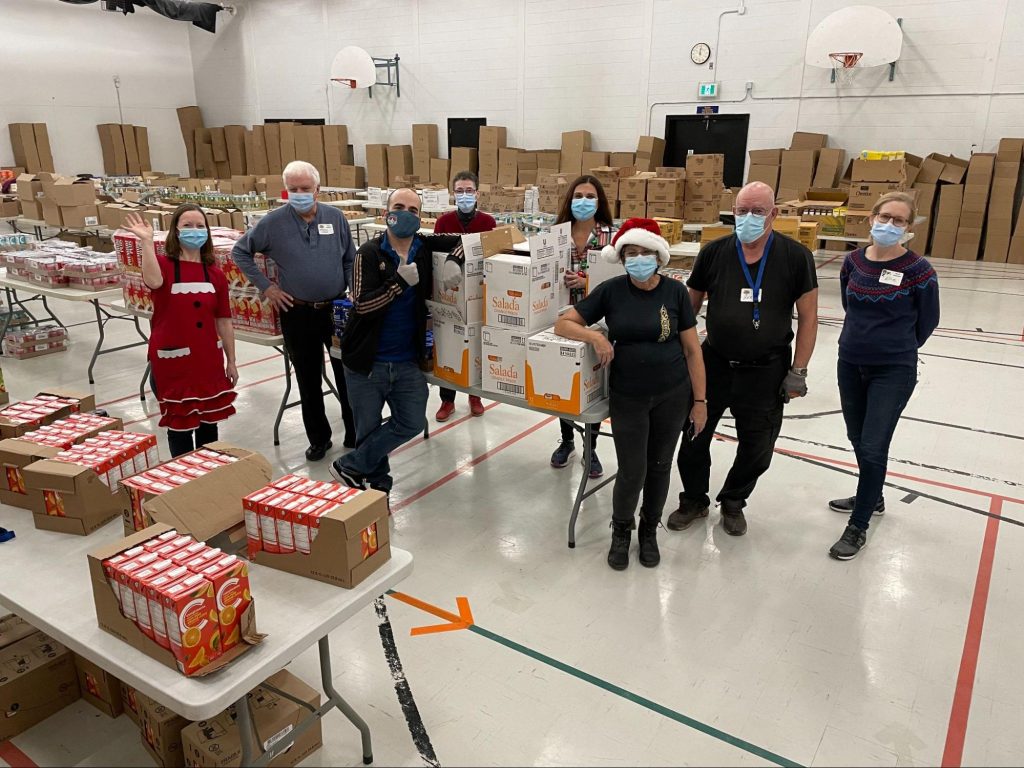 THANK YOU for helping the Community Christmas Hamper Campaign reach its goal!
was last modified:
January 26th, 2022
by