Cassandra Kerwin
cassandra@qctonline.com
Je Cours QC could not have planned the 2022 Lévis Half-Marathon any better.
The conditions were idyllic: a cool spring morning, bright blue sky, dry racecourse and cheering crowds along the way. Over 5,000 runners and walkers took over streets on the South Shore, creating a temporary traffic puzzle from 7 a.m. to 2:30 p.m.
To undertake a half-marathon, runners must train for at least six months before the event, running three or four times weekly. The key to Je Cours QC's success and popularity is that it invites and encourages people of all ages, genders and physical conditions to participate and do it at their own pace. Participants can choose from the two-kilometre kids' race, the Lévis Subaru five-km, the Sports Experts 10-km or the 21.1-km half-marathon.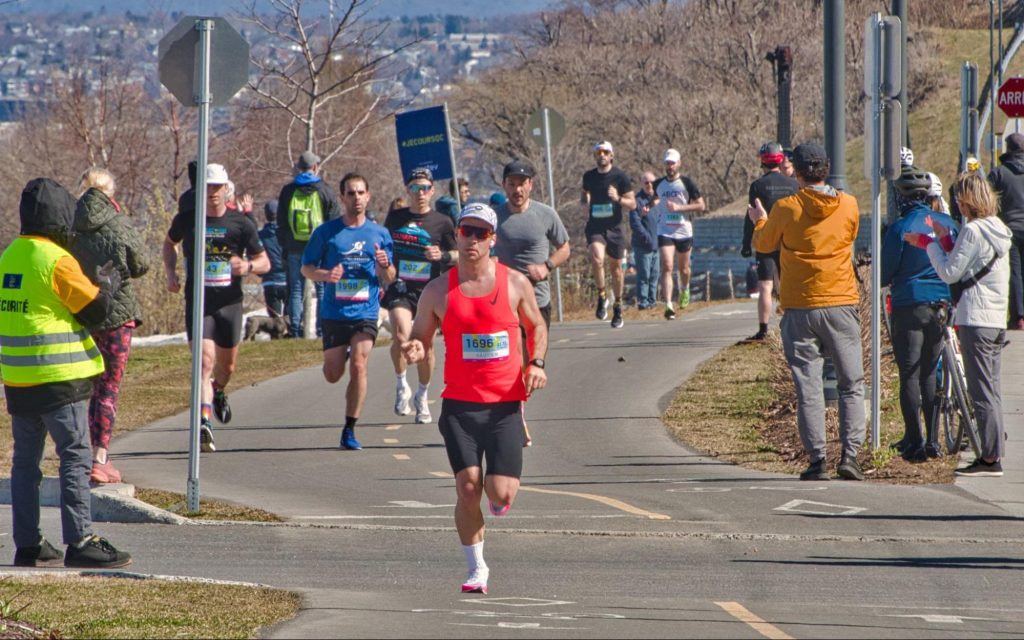 To ensure safety and security, and to be sure no runners take a taxi to the finish line, volunteer route marshals bike along the sidelines. To prevent a bottleneck at the finish line at the Juvénat Notre-Dame du St-Romuald, the start times are staggered between 8:30 and 11 a.m. Runners are told to arrive early to pick up their bib numbers and their race T-shirts to permit timely starts.
The races were intense, with loud horns signalling runners to start in groups, according to their estimated race time. The half-marathoners started at the Galeries de Chagnon, weaving down to Rue Saint-Joseph, passing the 10-km starting line at Église Saint-Joseph-de-la-Pointe-Lévy and continuing along Rue Saint-Laurent past the five-km and the two-km starting lines.
The highlight of Je Cours QC is the community. It is touching to see runners' proud faces as they complete their races. Children cross the finish line at full speed with huge smiles. Everyone is cheered, whether the runners arrive at the finish line in first, second, 100th, 2,000th or last place. Volunteers place participation medals around the neck of every runner before handing them a Je Cours QC package which includes snacks and gifts.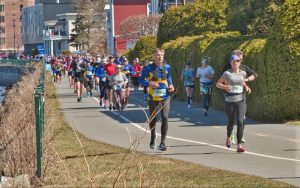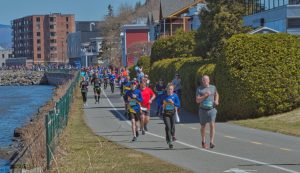 Normally, the winners of each race would be published in this article, but the sportstats.ca website was down when the QCT went to print. SportStats records racers' results in events around the world, including the Vancouver and Toronto marathons and the Pattana Triathlon in Thailand, which all happened on May 1.
The next Je Cours QC event is The Trail Running Challenge at Duchesnay Resort on May 23. The Quebec City Staircase Challenge is on June 5. The season ends with the Quebec City Marathon from Sept. 30 to Oct. 2. The Decente Royale returns in 2023.
Quebecers run to the finish line in Lévis
was last modified:
May 3rd, 2022
by