OBITUARY: William J. (Bill) DONNELLY (1939-2022)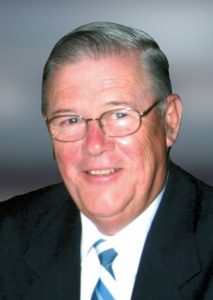 The Donnelly family would like to announce the passing of William John (Bill) Donnelly of Quebec City, husband of Anna Maria (Ann) Donnelly, which occurred on November 1, 2022.
Born on January 27, 1939 in Quebec City, he was the son of the late William Frederick and Eleanor (Caron) Donnelly.
The religious service will be celebrated on Friday, November 18, 2022 at 10:30 a.m. at St. Patrick's Church, 1145 Avenue De Salaberry, Quebec City.
The family will welcome you one hour before the ceremony to receive your condolences.
Bill is survived by his wife Ann; his sons Derrick (Helen) and Kevin (Lynne Paquet); his grandchildren Nicolas, Noah, Chloé and Teaghan; his siblings Terence (late Claire Méthot), Joan, Patrick (Maureen Fitzmorris) and Robert (Camille Gourdeau); and several nieces and nephews.
Bill was predeceased by his sister Shelley Donnelly.
He is also survived by Ann's family, including Harry Buyting (Annie), John Buyting (Patsy) and several nieces and nephews. Bill was also predeceased by Ann's brothers Gerald (Bertha) and Tony.
The family would like to thank the staff of the Wellness Centre at Jeffery Hale and Saint-Sacrement Hospital for their kindness and the good care provided.
In lieu of flowers, please donate to the Community Christmas Hamper Campaign (qchampers.ca).
For information:
ATHOS
Telephone: 418-529-3371 | Fax: 418-682-6249 Email: gsreception@athos.ca
To send a personalized message and / or flowers
or sign the register in memory of the deceased person, visit lepinecloutier.com.
OBITUARY: William J. (Bill) DONNELLY (1939-2022)
was last modified:
November 8th, 2022
by