OBITUARY: Louise Amyot McCAULEY (1929-2021)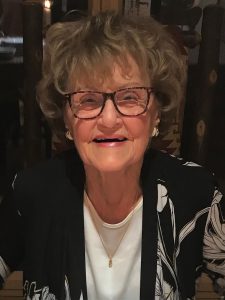 Louise Amyot McCauley passed away peacefully at home in Montreal on December 20, 2021 at the age of 92. She was surrounded by her loved ones who will continue to honour her legacy by living their lives to the fullest.
A true force of nature, she was a loving wife, mother, grandmother, great-grandmother, sister, aunt, cousin and friend. She never lost her sense of awe and wonder and embraced all that life had to offer. Her life was imbued with a passion for music and singing.
Beloved wife of the late William James McCauley, she leaves behind her children who loved her dearly: Brian (Sandra Beaudet), Wayne (Laura Desjardins), Susan and Joyce (Ricardo Gonzalez); her cherished grandchildren Alison (Sébastien
Delorme), Cristin (Patrick Corriveau), Gillian, Stone (Katelin Kelly) and Benicio; and her adorable great-grandchildren Samuel, Ellie, William, Theodore, Gibson and Sterling. She is also survived by cousins, nieces, nephews and longtime friends whom she treasured.
Louise was predeceased by her parents S. Eugène Amyot and Juliette Gagnon; her siblings Georges (late Yolande Vermette), Pauline and Léopold (Andrée Jobin) and her in-laws Gerard (late Pauline Morais), Desmond (Joan Grant) and Paul (late Monique Lévesque).
Although she spent the last 11 years enriching our lives, she was always "en vacances" in Montreal and has now returned to "her" beautiful Quebec City where she will be buried beside "her" Bill at St. Patrick's cemetery.
The commemorative mass and burial will take place in the spring of 2022.
A heartfelt thank you to Hélène Plouffe, the NOVA nurse who compassionately guided us through her end-of-life journey and gave us the gift of being able to care for her at home right until the end. Should you wish, donations may be made to NOVA Home Care, 310 Victoria Avenue, Suite 403, Westmount QC H3Z 2M9 or novasoinsadomicile.ca/waystogive.
For further information, contact the Coopérative funéraire des Deux Rives (Anse-Plateau) at 418-688-2411 or coopfuneraire2rives.com.
OBITUARY: Louise Amyot McCAULEY (1929-2021)
was last modified:
January 11th, 2022
by