OBITUARY: Christianne GAGNON (1957-2022)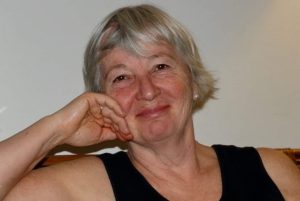 Christianne Gagnon passed away peacefully on July 21, 2022, at home on the Stairs-Gagnon farm in Tewkesbury, with her family by her side.
Born in Saint-André, N.B., Christianne was the eighth child of nine born to Roméo Gagnon and Jeanne Caron. She was brought up on a potato farm, and with four older brothers and three older sisters she quickly learned how to stand up for herself. As a youngster on the farm, she developed the qualities that would prove so valuable to her and all those she touched during her life: honesty, generosity, hard working, love of family, amazing sense of humour and love of art and animals.
Christianne moved to Quebec City in 1979. In 1981, she joined the Canadian Coast Guard, where she met her future husband Alan Stairs. They were married in 1984 and moved to their farm in 1987. Along the way, they had four wonderful children, Jonathan, Mackenzie, Christine and Jane. As of today, seven grandchildren have appeared, with two more on the way.
Christianne was a tireless volunteer in her community with stints on church committees, the Tewkesbury citizens association, the Stoneham thrift shop and many other worthwhile causes. Art was a big part of her life and she was an accomplished pastellist who loved to paint the animals she was surrounded by daily – cats, dogs, farm animals and particularly roosters. Weekly trips to the tennis courts with her large circle of friends allowed her to expend some of her prodigious energy. The Tewkesbury community garden and Tewkesbury chorale, two activities which she particularly appreciated, helped to keep her mind otherwise occupied while she fought her battle with cancer. Unfortunately, this was one battle she was destined to lose.
A celebration of Christianne's life was held at the farm on Saturday, Aug 6.
The family would like to especially thank the CLSC La Source palliative care unit for the tremendous care they provided, allowing Christianne to finish her days at home, on the farm, the place she loved the most in this world, surrounded by her family and friends.
OBITUARY: Christianne GAGNON (1957-2022)
was last modified:
August 9th, 2022
by