Cassandra Kerwin
cassandra@qctonline.com
The weather outside is frightful. Snow is falling. Winter is coming, and along with it, Christmas. This year, for the first time, the Coca-Cola Company has partnered with Santa Claus to drive a delivery truck from Newfoundland to British Columbia spreading the magic of Christmas.
In 1995 in the United Kingdom, the Coca-Cola Company and an American marketing firm created a televised holiday commercial where Santa Claus trades in his sleigh for the iconic illuminated red delivery truck to spread the magic of Christmas around the world.
After the terrorist attacks of Sept. 11, 2001, the American branch wanted to spread joy in a similar way by stopping at locations including supermarkets, hospitals and community centres. Similar caravans, each with Santa Claus driving, then started
appearing in various countries in Europe, Asia and Oceania.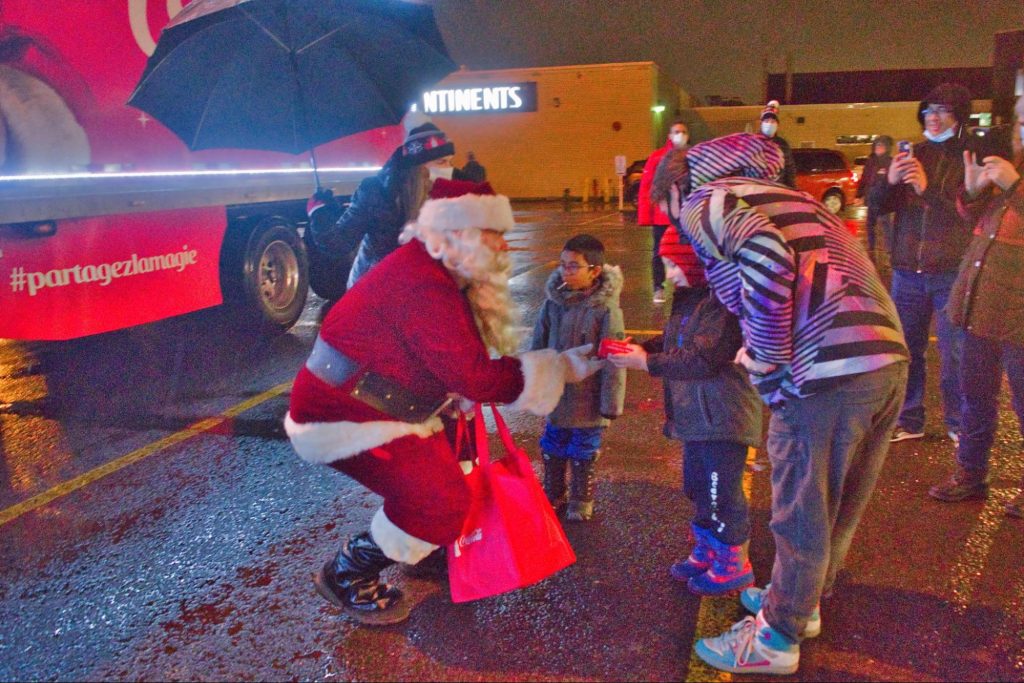 This year for the first time, the Canadian Coca- Cola Bottling Company has Santa driving his truck from Newfoundland to British Columbia, delivering Christmas cheer along the way. The Coca-Cola Canada Holiday Truck Tour has come at a key moment when people are feeling lonelier than ever before due to the pandemic and looking forward to long-postponed in-person family and social gatherings.
As the caravan moves west, the Coca-Cola Holiday Truck and Santa Claus may appear in many places on the same days and even at the same times.
Visit DeliverTheMagic.ca to find the schedule specific to each province. Dates and times are subject to change and cancellation without notice due to weather, driving conditions and other circumstances beyond the company's control.
When the brightly lit red delivery truck pulled up at IGA Des Sources in Charlesbourg just after 6 p.m. on Nov. 18, families doing their grocery shopping were surprised and delighted by this unusual holiday visit. Santa Claus waved from the cab before greeting the growing crowd, despite the freezing rain. After hearing their Christmas wishes, Santa Claus gave each child a small red box with three baubles. An hour later, he drove off to deliver more magic across Quebec and the rest of Canada.
"For me, there is nothing more special than Christmas. My parents and I used to host 30 relatives and friends on Christmas. Seeing everyone smiling and laugh- ing made all the long days of preparation worth it," said Sarah Lemieux, who came to this IGA to see Santa Claus and the iconic Coca-Cola Holiday Truck. "Everything changed after the passing of our grandparents, and even more so since the pandemic. I crave the magic of Christmas and seeing this truck in person after watching it on TV for decades is absolutely wonderful and brings it back; our inner child comes out."
Coca-Cola and Santa Claus spread the magic of Christmas across Canada
was last modified:
November 24th, 2021
by