Cassandra Kerwin
cassandra@qctonline.com
The holiday season is fast approaching, and Christmas markets are popping up all around town. The Grand Marché de Québec is hosting the first edition of the Bientôt Noël Christmas market until Nov. 30. A group of 40 artisans have set up tables filled with handmade seasonal merchandise.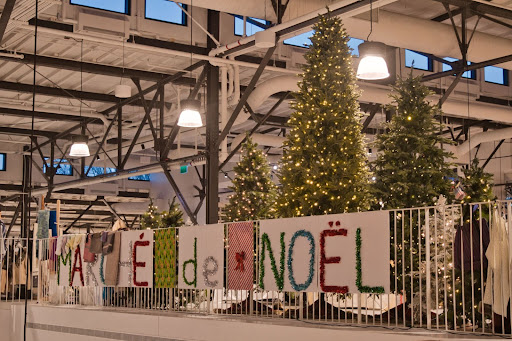 In honour of the event, beautifully decorated Christmas trees and garlands grace the various kiosks. A rustic sign hangs from the railing of the upper walkway, directing shoppers to unique items, including tablecloths, napkins, placemats and hand and dish towels, some of which were snapped up by buyers as quickly as they were displayed. Colourful mittens, hats, gloves, scarves and blankets were in high demand. Sparkling Christmas tree decorations and jewelry caught the eyes of many people. Handmade catalognes (a classically French-Canadian woven rag bedcover) were a hit for those looking to authentically decorate their homes.
Shoppers can return during the final weekend of November
for the arrival of young entrepreneurs aged seven to 18, who will sell their handmade gifts.
"I came here searching for handmade toys, trinkets and quilts for my children, family and friends," said Dominique Lessard, a mother of twin boys who were more interested in the snowman at the end of the row of tables. "I love encouraging this group because they create things in the traditional way. Everything they make lasts because it is made with care, with the right material and traditional technique. This is important for mothers who always have their hands full!"
More holiday magic awaits shoppers at the Grand Marché throughout December. From Dec. 1 to 5, the Grand Marché's more than 50 kiosks will attract large crowds. For more information, visit legrandmarchedequebec.com.
Bientôt Noël! The Grand Marché holds an early Christmas Market
was last modified:
November 24th, 2021
by